In The Beginning…


When I began my quilting venture a few years back, I often began a project by scouring the web or paying a visit to a local fabric store making a bee-line for the display shelves with one main objective: to locate that elusive easy-to-make-quilt- that -only- looks- complicated pattern. For some reason, there is something in my psyche that needs to create an object that looks complicated but actually requires minimal effort and time.
I'm probably not alone.
So, for all you quilters out there on the look out for a quilt pattern or project that fits this bill…something that way more than piecing a bunch of squares together, I have TWO solutions.
Solution ONE : Secret Garden Quilt by Craftpassion.


I briefly discussed this quilt here but this quilt is SO much more than sewing together a bunch of squares, it is going to be my main topic here for a few more weeks!
Since it has been a while since I posted here, I would encourage you to visit her site where I first discovered this fun, happy, colorful quilt.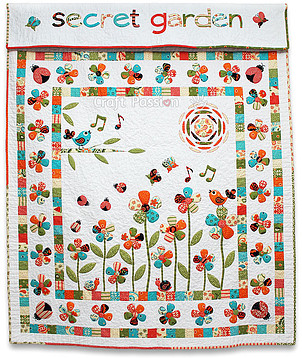 One look at her quilt and you'll be rolling up your sleeves and with elbows flying – dusting off that cutting mat, sorting fabrics and changing the needle in your machine before you finish reading the instructions!
You will notice she describes her quilt / applique process as
"Trapunto". Another variation that feeds my soul. I absolutely love
texture and dimension however, due to the large size of this quilt, I
felt it necessary to veer my technique in another direction.
As I publish additional posts over the next few weeks about this Secret Garden Quilt, I will show other ways that I've
veered off the "Secret Garden quilt pattern" path. I should note that many of my detours were not always time savers nor were they the
result of finding a way to something better.
No, craftpassion's quilt pattern and directions are fine just as they
are – no modifications are needed which leads me to another confession – I
have a hard time following ANY pattern to the letter. Many times I
view a pattern as more of a "quide" or a spring board from to launch my own ideas. As the project progresses and, without any prompting, I subconsciously allow the pattern instructions to evolve and become more a reflection of
me.

More Than a Bunch of Squares
Aside from sheer adorable cuteness, this is a quilt that includes:

a) Applique
c) A mix of a variety of colors and shapes
f) Hand Stitching & Embroidery

i) And, if Piecing together a "Bunch of Squares" is what you're looking for – yes, it's got that too!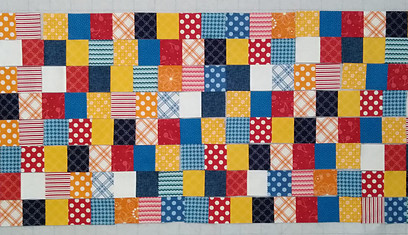 Want to add a few new skills to your existing repertoire? Try out a new tool or notion? Maybe it's been awhile since you tried your hand at free motion quilting. Whatever the weather, this is a great quilt that really mixes things up and will hold your interest for the long haul.

This quilt is still a WIP, (Work-In-Progress) and as I learn something new and wonderful, (and until the quilt is completely finished), I will be sharing my discoveries here.

A Couple of Great Apps!

Applique and using Applipops is not new here at MyQuiltingSpace but
with SO many applique techniques out there I felt this to be a great
opportunity to revisit my all-time favorite techniques.
1) My absolute favorite go-to Applique technique is one I learned from Lori Holt. I won't go into all the details here but if you've ever avoided applique because you thought it was too difficult, I encourage you to give her a visit. She will allay your fears and have you rummaging through that scrap stash and pulling out your design boards in record time!
These are a few of the applique elements I will be adding to my Secret Garden quilt: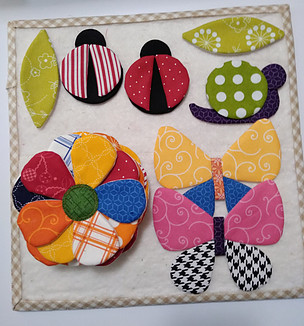 2) Applipops. I'm completely addicted to these cute little rings! I will admit my first few applipops did not turn out as I had hoped but I persisted and as my own technique evolved and improved, the appearance of my applipops improved as well.
In my humblest of opinions, the Applipop technique is the only way to create perfectly round applique shapes.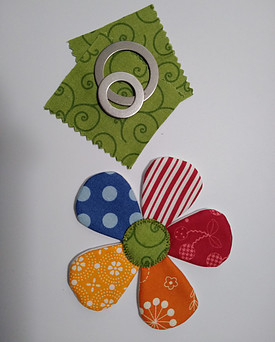 Getting back to the "trapunto" technique. The applique techniques I use allow me to create shapes that allow batting or poly fil to be sandwiched in the middle, giving a trapunto effect before being sewn onto the quilt top. The fact that it eliminates the potential to make a mistake stitching around the perimeter of the shape also reduces my stress level. Hand stitching the shapes also gives a puffier, more dimensional appearance. In my vision, (and since these elements are rather simplistic), I want each of these elements to really pop from the background.

If the Secret Garden isn't what you're looking for (it appeals to me because it will be the perfect Sweet 16 quilt for my granddaughter) the next option will check off most any quilt technique box you have listed:
Solution TWO: Summer Sampler 2021 Vintage Restyle Quilt Along (QAL).
I first discovered this yearly get-together last year at a time when I really needed an emotional and social pick-me-up.

The finished quilt (below) and more about the process and how I tried to stay organized can be found here.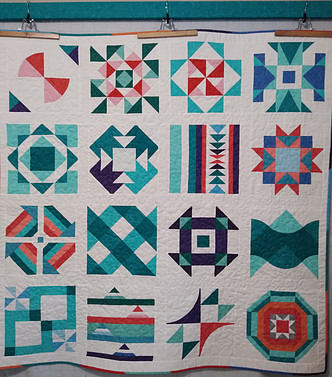 This year's Summer Sampler 2021 – Vintage Restyle QAL begins Monday, June 7th with a weekly pattern delivered to your inbox through August 30th.
Are like me? Does just a simple hint of a quilt along bring a rush of excitement? I begin to envision those fabulous fabrics I've had my eye on or a fabric bundle sitting in my closet waiting for the "right time" to be brought out to show their stuff.
Giving this year's quilt design (see below) a second glance it occurred to me that the remainder of the Quilter's Linen fat quarter bundle by Robert Kaufman I have left over from last year would be perfect.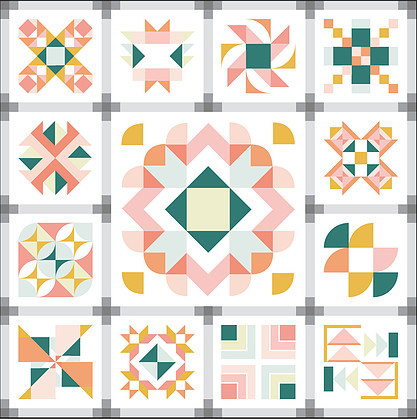 I did order new color (Kiwi) that I'm using for the color listed as Mustard in the instructions and, of course, more white for the background. The pinks and corals went largely unused in the previous pattern

(and I used all white sashing so I have 4 or 5 shades of gray) so I have plenty left over for this one!
For now, the fabrics are chosen (although substitutions will invariably occur), sorted, labeled and ready for tomorrow morning!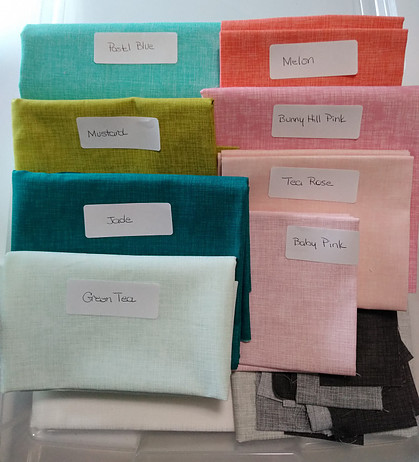 Good Times Are Ahead!

Stay tuned… There is MUCH more to share as I finish my version of the Secret Garden quilt, begin another with the Summer Sampler 2021 QAL and learn new techniques!