Have you ever found yourself just wanting to sew?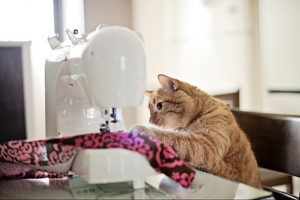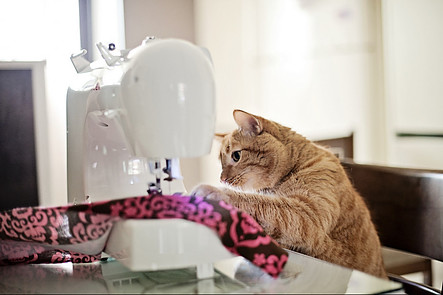 You want to make something – something easy and pretty but you don't know exactly what?
I had been away from my sewing machine for few days trying to get my most recent baby quilt ready to quilt and bind – a task that always produces at least a little anxiety. It's one thing to sew or quilt for myself – if I make a mistake, it's a mistake that only I have to live with but quite another to sew (and in particular) quilt a quilt that will be gifted.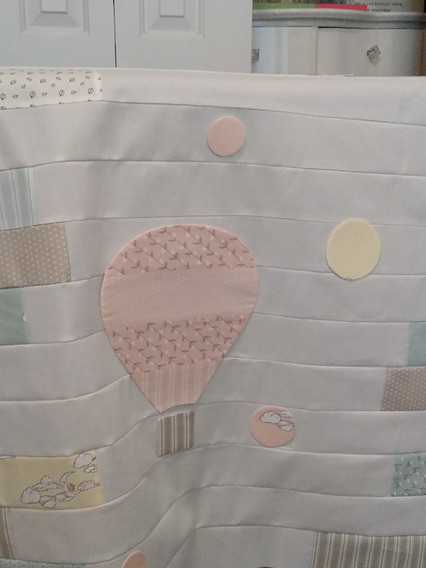 As an exercise to restore my sewing motivation I decided to embark on a project that, to the casual observer appears quite easy. In reality, the first half of the project IS easy – it's the actual "putting it all together" that taught me a huge lesson – nothing is as easy as it appears – in print or video!
The project?
Making a Jelly Roll Rug.
And it was this rug made by Erica of Confessions of a Home Schooler that was my primary source of inspiration. The fabric line and colors she chose are gorgeous – who wouldn't want a rug like that!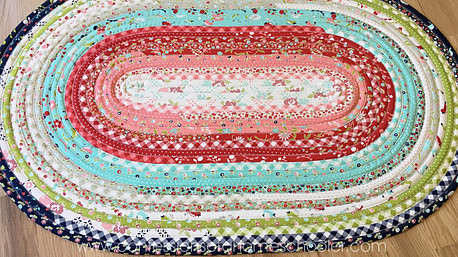 I watched several tutorials but Erica's tutorial made the whole process seem so easy – so much that I convinced my self that her tutorial was all I needed to successfully create my own jelly roll rug. And yes, she stated many times the benefits of purchasing THE pattern – the pattern where the "secrets" to successful jelly roll rug making are located. But I can be stubborn and over confident, especially when I'm confronted with a techniques that I "know" I can figure out on my own. Patterns are for sissies!
After a few trials and many errors, I first gave myself a new nickname, "Sissie" and then I caved, bit the bullet and paid the $10 for the pattern by Roma Lambson.
If you are serious about making such a rug from a jelly roll I highly recommend you not only watch various video tutorials but ALSO purchase her pattern. Read through and follow the instructions carefully – this will save you a LOT of time ripping out seams and beating your head against the wall!
This is what I call my "Reader's Digest Condensed Version Jelly Roll Rug":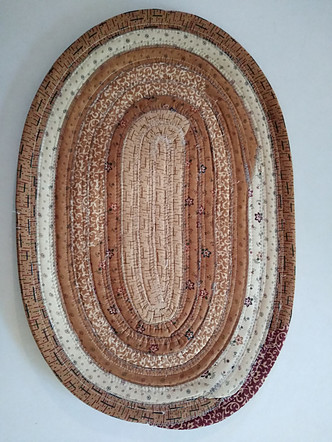 It's not pretty and I had to do some splicing in a couple of places (due to ripping seams, etc.) but when I'm ready to tackle this project again I now know SO much more than I did before I started. And before attempting another circular or oval rug I'm going to try the half moon shape – or rather, the Slice Rug pattern I discovered at Shabby Fabrics.
Stay tuned and see what I do with the strips sewn together below. Right now I'm thinking it will make an interesting pillow front.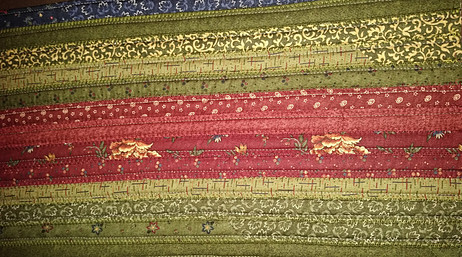 Summer Sampler 2020
I received the first email with instructions for the first block this past Monday.
Although I'm still waiting for my white fabric to arrive I couldn't resist making a practice block out of a few squares I had left over from a project a couple of years ago.
The fabric is Taylor's Tack and the fabric (along with the company Blueprint where I purchased it) are no longer available, I found this particular pattern well suited for these fabric remnants.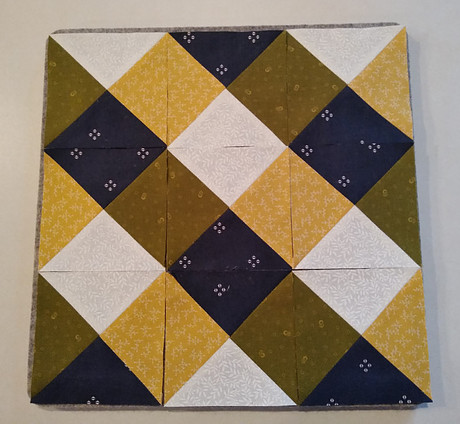 This is only the second group sew-a-long / quilt-a-long I've ever joined. What I've discovered from each – in addition to being a lot of fun is that they keep me accountable and focused on completing an entire quilt top in a timely manner. It's all too easy to allow yourself to get distracted (see unfinished baby quilt above!) and not complete a project within an acceptable time frame!
Other Sewing Room Shenanigans
1) A Re-visit of my sewing room space plan.
The original plan for the East wall looked like this: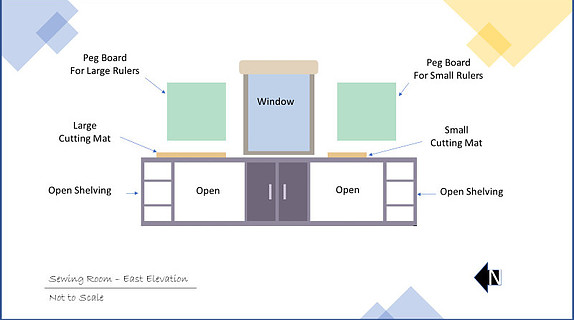 The Revised Plan Below:
After looking at other images posted in various places I felt having one continuous table along the south wall would be best. The work triangle is preserved but with storage and display that gives more balance and honestly, a plan that is probably more realistic and functional.
It has been my experience that a space that is too formal and too "perfect" is usually not a space that is well utilized.
2) Planning my next big quilt project.
The day I saw Lori Holt's Vintage Housewife quilt I knew at some point in my life I would have to find time to make this.
While I have so far managed to somehow resist the temptation to purchase the fabric I have pretty much everything else that this project calls for – the templates, trim, buttons, bias tape makers as well as downloaded the free PDF file. I do realize this fabric line will not be around forever so I need to make a decision to purchase this fabric or the kit soon or I'll find myself trying to source a fabric line that is comparable – something that is next to impossible!
3) Looking forward to next Monday when the next Summer Sampler 2020 block pattern will be released!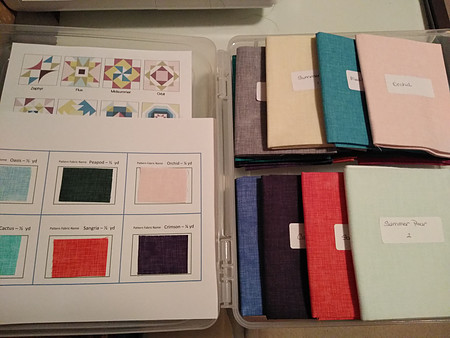 What's going on in your sewing room this week?