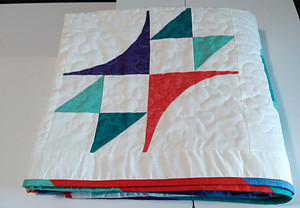 Hi Everyone!
This post is going to be a little different from previous posts where the intent is to educate or provide important information to help you succeed in the quilting / sewing world.
Not that the following is completely devoid of any information of value but I've decided to devote my time today to the simple task of showing and telling what I've been up to during the past 3 weeks.

It all started with a new sewing table and from there, the snowball effect was put into full motion!

A Work in Progress


Today is Week 3 in my new sewing room. A room that is all mine – that I can dedicate to sewing / quilting / crafting that also has space for my "office" with 2 desks and my computer.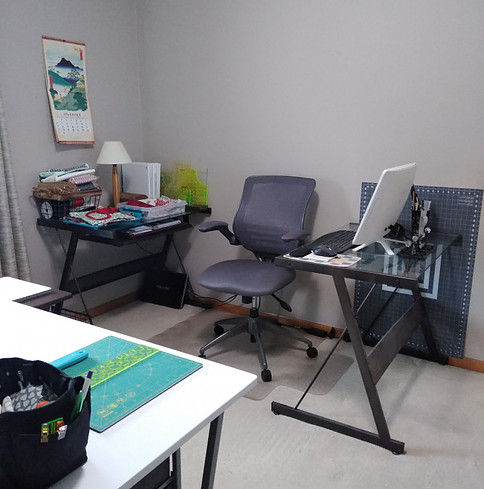 Ideally, I would have removed the carpet and replaced it with hardwood flooring, painted the walls, trim and ceiling and changed the window treatment first but when the opportunity presented itself (the moment hubby stated I really need to make this space my own) I knew there was no time dilly-dallying. The move had to be made while he was in the mood to help!
Productivity 101


I'm now able to use the entire wall as a design wall. The large design wall is secured using a fabric covered plank of wood that had been lying around in the basement. It has an opening across the top to double as a display rack. There is also room to the side to hang a medium-sized design wall that is also portable.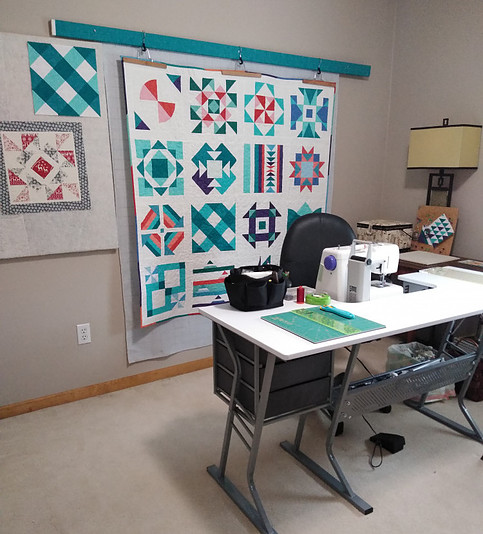 The extra space this new sewing table affords, along with a more spacious and organized work area, allowed me to finally finish this sampler quilt: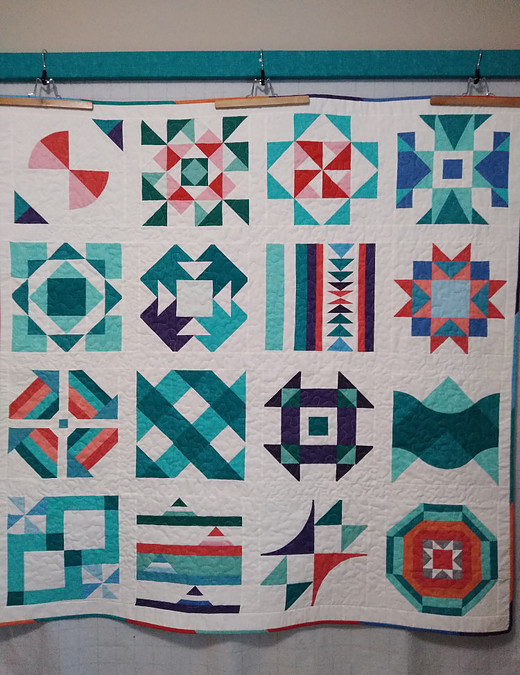 I used the same white fabric for sashing as for the background. The pattern calls for a more visually interesting and colorful design but when you have a MULTITUDE of mistakes, I have discovered the magic of matching the sashing with the background is the only sensible way to hide those mistakes!
As a bonus, the contrast allows these particular colors to really stand out.

Since the quilt is also the epitome of 2020, I created a quilt label to reflect how 2020 influenced the creation of this quilt: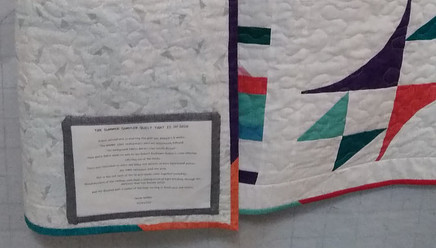 The print is too small to read in the image above – here is how it reads:
THE SUMMER SAMPLER QUILT THAT IS SO 2020
Fabric arrived late so starting the quilt was delayed 1-3 weeks.
The science
(QAL instructions) were not consistently followed.
The background fabrics did not stay socially distant –
Kona White fabric made its way to the Robert Kaufmann Quilter's Linen collection
infecting one of the blocks.
There was resistance to enlist and follow the opinions of more experienced quilters –
the FMQ techniques paid the price.
But in the end, each of the 16 quilt blocks came together peacefully –
Bound by colors of the rainbow, each block a shining prism of light breaking through the darkness that has become 2020
And the finished quilt a symbol of the hugs we long to freely give and receive.
Susan Walden
11/19/2020
---
Back to my new sewing table – its ergonomic design also made FMQ (Free Motion Quilting) soooo much easier.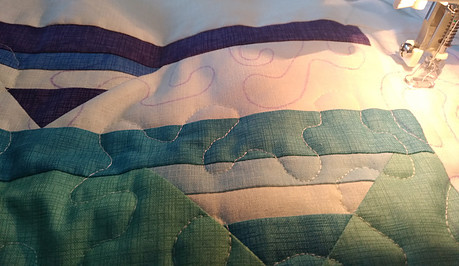 ---


Pillow Talk


However, before I started quilting the sampler quilt, my new space gave me the organization I needed to make this pillow (using Autumn Love applique templates) and scraps from my quilter's linen stash: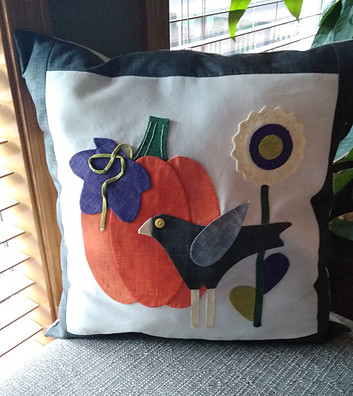 And to begin this pillow from using Scandi fabrics bought last year: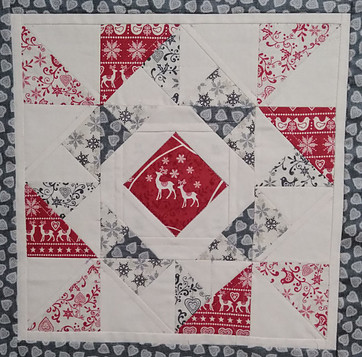 Rounding the Corner




Another benefit of having an open, organized space is the mental freedom to tackle, practice and perfect those techniques that others are able to demonstrate and make look so easy but when I attempt, my ______ doesn't look anything like the demonstration.
Case and point – Mitered Corners. I've tutorial after tutorial and yet more tutorials however, with my machine at an ergonomic level and adequate space and lighting, I finally get it! And, here is a mitered corner on the quilt shown above:
It's not perfectly perfect but the closest to a mitered corner I've ever done in my whole life!!!!

If nothing else, I hope you found at least a little inspiration in this post.
As always, feel free to leave a comment – I'd love to hear all about YOUR sewing space!