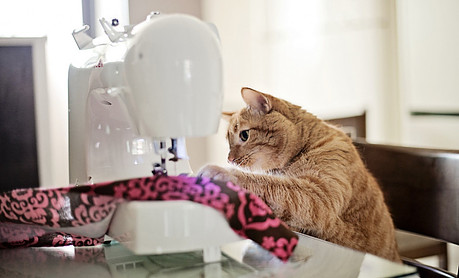 We've all been there.


A newly released fabric bundle, quilt pattern or QAL announcement appears in our email. The images spark a wave of energy and the anticipation of creating a new "something" takes over all sense of reason and logic. We can can hardly contain our giddiness as we change the blade in our rotary cutter and the needle in our machine.

As you anticipate opening a new fabric bundle you will let nothing hold you back or stand in your way. You're going to plow and churn one HST after another. In your mind you visualize every point will match up perfectly. Machines are humming, (or purring) and your attention is laser focused on the finished product.
Then, out of nowhere, the ol' quilt train jumps the track.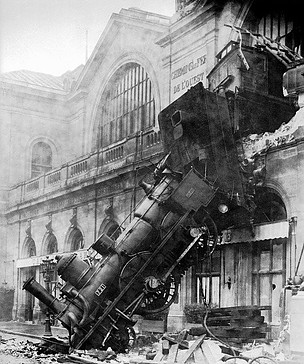 Your quilting mojo lies motionless. What happened? How did this happen? What will I do to get this quilt train rolling again?
Was it the 43rd seam that I had to rip out and re-sew? Is the pattern more difficult than I imagined – again?
Will I get this quilt finished in time?
Is this the end? Are there no more tracks?

So many questions…

A train rolling along so swift and smooth could only be stopped so suddenly in its tracks by one thing: Stress.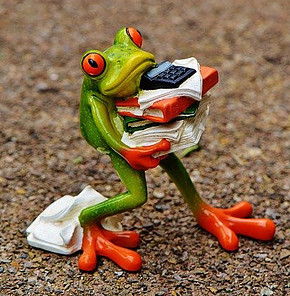 Until last week I thought I was managing stress about as well as
anyone. Given the number of projects, deadlines and responsibilities to shoulder, I never gave much
thought to doing anything different.

I told myself my 'quilting train' was simply running low on gas, or steam, or coal or something. Whatever it was, never had any doubt that the situation would be anything more than temporary. Surely, a fill-up was just around the corner.

The Universe, on the other hand, wasn't waiting to round that corner. It had another plan – a much better plan. A plan to give that train the boost of energy it's needed for a couple of years.

The Plan?
A trip. A real destination.

I do have to admit, this was a plan that completely blindsided me. A trip was nowhere on my radar!

My husband's radar is another story – it is always scanning the landscape for a destination!
And what a destination he located! Of all places on Earth – Chicago!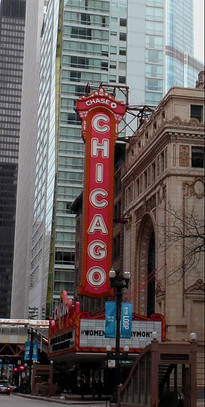 I never dreamed a haven of rest and relaxation could exist in a large, beautiful, (crime ridden) city!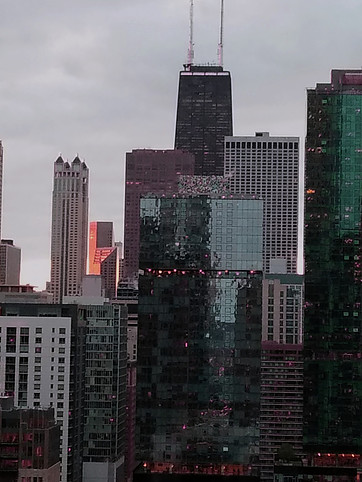 Even the flight – having to arrive two hours early, dealing with the TSA, the pandemic restrictions, the waiting. All was much less stressful than a day at work.

Chicago knows how to do architecture. And as breathtaking as the City Skyline is at anytime of the day or night, what I find most intriguing is the seamless mix of old an new. The survival of homes and structures with a medieval revival took my breath away.
In all, I took close to 200 images over a 5 day stay. As much as I'd love to turn this article into a "Susan's Architectural Tour of Chicago", I will instead adhere to the original intent of this post and include just one more of my favorite images.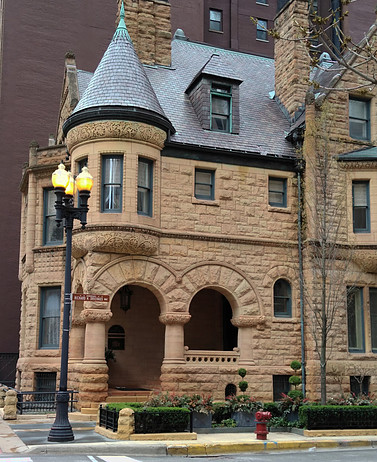 Known as the Ransom R. Cable House, built in 1886 is still standing and in use today. "Considered too large for a family 'of moderate size', the Cable House is an unusual corporate headquarters".
Sometimes all I need is an abrupt change of scenery and an alteration in my routine to kick start the wheels of action and creativity.
First Three Stops on the "Quilting Train":


1) Finish the quilt I started for my oldest granddaughter.
This just might be my favorite quilt ever. I used a pattern, "Secret Garden" by Craft Passion . The pattern was created in 2013 so the fabric used in the example is no longer available however, I found this fabric line, "Kimberbell Basics – Spring" and "Kimberbell Basics – Summer" by Maywood Studio to be perfect for this pattern. Both fabric bundles (and others from Maywood Studio) can be found in the Fat Quarter Shop.
These are a few of the applique pieces I'm currently working on: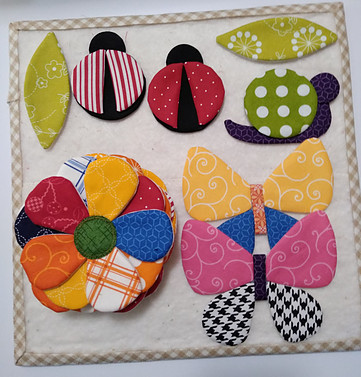 Aside from making a change in the fabric line used, I will be adding a vine and decreasing the number of flowers on the middle border. The corner will consist of a black and white nine-patch black as opposed to a solid white square with a ladybug.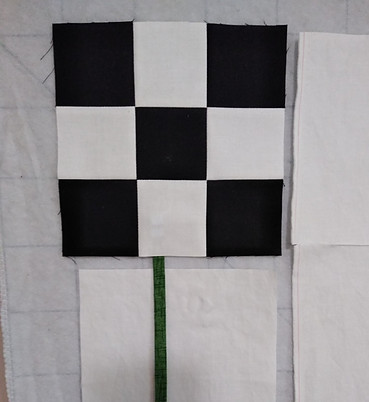 When this comes together I'll need to see how a smaller ladybug would look on top of the nine patch. This is quite a busy design with a lot of contrast – another item on the nine patch block may be too much. Stay tuned!
Continuing the subject of applique, this quilt design gives the opportunity to use one of my favorite tools: Applipops!
The 'Secret Garden' pattern includes templates for every applique, including circles, but once you use Applipops you will use these circular templates for every circle you make!
Below is an example of how I used an applipop template to make the green center of the flower.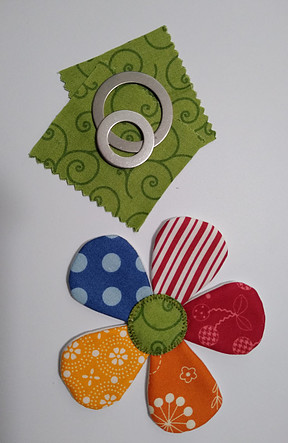 2) Continue the Sewcialites QAL


I'm so far behind I'm not even going to try to catch up but as time allows I will plug along and make every effort to complete at least one block every 10 – 12 days. It is in that spirit of I've decided to make another modification. As opposed to creating one very large quilt from all 36 of these blocks, I will instead piece just 16 (or 20) blocks to make one top. This smaller top will be quicker and easier to quilt and bind. In turn, my life will be less stressed and I will be a happy quilter!

This is the first (16) 9″ blocks connected with 1″ white sashing: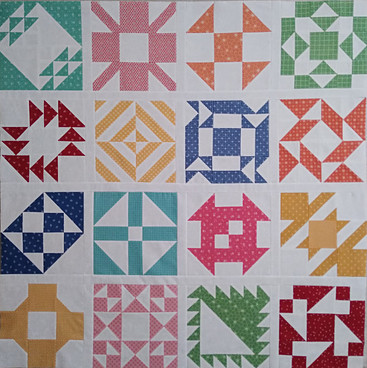 As I complete the remaining blocks (there are 36 in all) I'll use those to make a second throw quilt.
3) Return to Making Quilts for a Local Comfort Care Quilting Group.
These are quick and relatively easy throw quilts that a group of us sew together in our spare time. They are specifically for patients at a local hospital who transition to palliative or hospice care.
This one is almost finished: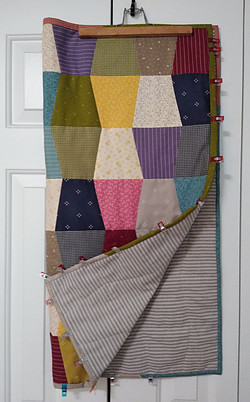 1)  Close up of a mitered corner:                 2)  Quilting pattern created by stitching in the ditch

A fun quilt to make using the Tumbler Template by Missouri Star Quilt Co.
Thank you, Chicago and thank you my sweet, thoughtful husband for this healthy dose of
inspiration. I'm energized, motivated and ready to climb out of this
slump and climb aboard my "Quilting Train" again!