Inspiration – be it a little or a lot – it's the magic ingredient that sparks our need to create.
If the adage , "Inspiration is everywhere", is true, then the task of becoming inspired is not so much "where" to find this inspiration but how to recognize the potential of an event/object/idea to generate within us the impetus to be inspired.
For those of us who consider ourselves 'makers',  it takes only a tiny spark of inspiration to get those wheels of creativity turning!
So…
Making the Assumption That Inspiration is Everywhere
Let me start by sharing how a recent weekend get-away provided me some much needed inspiration!
It started as a short road trip get-away for the sole purpose of unwinding and relaxing. As inviting as that prospect sounds, I have to admit, I was a little worried.
My first thought, "How in this world will I survive for 2-3 days with nothing to do!
No sewing, no quilting, no cooking /cleaning /laundry.
"How do I fill all that time without my usual activities?"
Turns out, doing nothing is a VERY EASY thing to do! I didn't go crazy or lose my mind or grow a third eye in forehead. What I did do is learn that this "doing nothing" is something my husband and need to make a habit of doing at least once a year, (preferably twice)!
What Do You Mean By Doing Nothing?
Before going much further with all this "doing nothing" business I should clarify – it's wasn't that we did nothing, we did do 'things' but ONLY did the things that were fun and relaxing – an important distinction!
It is my belief that doing absolutely nothing is NOT relaxing or rejuvenating – it will only drive you crazy!
Both my husband and I work in healthcare and spend our work days and nights taking care of other people – a lot of other people.
Getting completely away from it all and allowing ourselves to be taken care of had  to be the absolute most enjoyable vacation ever.
All our trips to NYC, Times Square, Broadway, DC, Virginia, Yellowstone, Rocky Mountains, Wyoming, Chicago, Florida, Colorado, Michigan, North Carolina, Tennessee, Atlantic Beach…with all the hassles of planes, trains, noise, people, schedules, rules…cannot compare to the simplicity of a stress-free weekend in the country.
Nothing more soothing to the soul than to exchange a high energy itinerary with rocking on the porch listening to the birds sing, eating home cooked meals, swimming in the pool, hiking through the woods, reading a favorite book (that I never seem to have time to read) and photograph breathtaking sunsets and country landscapes. Throwing a couples Swedish massage was icing on the cake!
Our get-away took us to Pleasanton, Kansas and the Cedar Crest Lodge – about an hours drive from home.
The images below don't do the lodge or the experience justice but they are a fair attempt. (To get a better idea of what the Cedar Crest Lodge has to offer click n the link above.)
The warm and inviting entrance –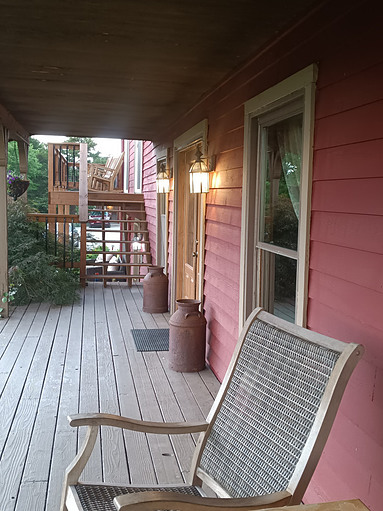 The best place to sit and listen to the birds sing or watch it rain.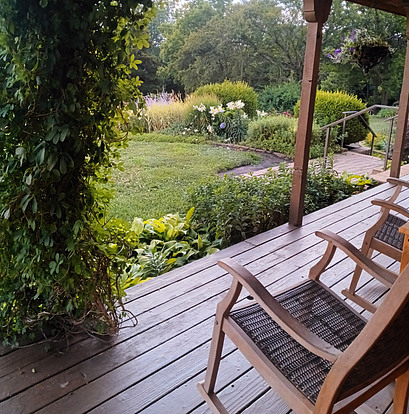 Storm clouds that skirted just north of us.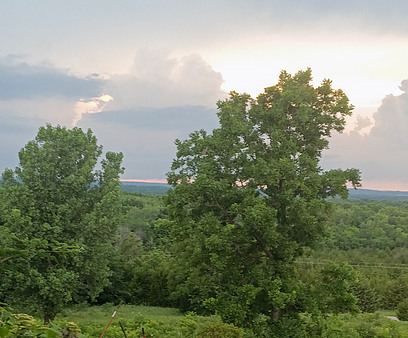 The view from the dining area in our room.
Since it was our wedding anniversary, we had room service for dinner.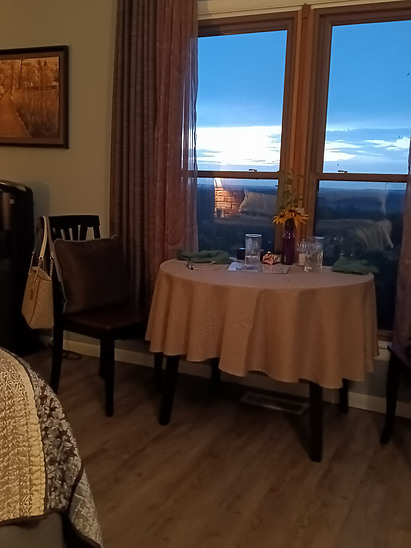 Fresh cut wildflowers from the garden.
They create a vase each day for every room!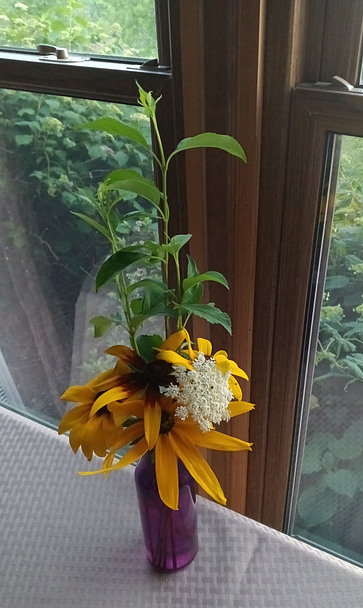 Couldn't leave without one of these beauties!  It's one of several style of mugs used at the CCL.  Each one is hand made in the Deneen Pottery studio in Minnesota.  You can learn more about Deneen Pottery by clicking on the link above.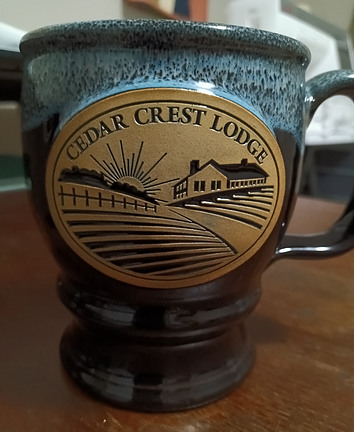 Where Is The Inspiration?
For me, I found inspiration pretty much everywhere.
The colorful blooms in the flower beds and gardens have inspired me to incorporate some of the same into my almost colorless front yard.
The slow pace has taught me the benefits of slowing down and taking time to smell the roses – and the lavender and thyme and honeysuckle and fresh air!
Being in the company of people who are authentic and love what they do is a reminder to myself to continue to be true to myself.  I'm always happiest when I'm doing what I love.
The Cedar Crest Lodge Logo – It so perfectly sums up what the experience at CCL is about.  This logo's design has really stirred the pot with sparks of creativity flying everywhere.  I'm envisioning a foundation paper pieced place mat, wall hanging, pillow, table runner…  The possibilities are endless.  And a mug rug!  What could be cuter than a CCL mug rug to go with the CCL mug!
Stay tuned and see what these inspirations create!