ONLY in the Dictionary!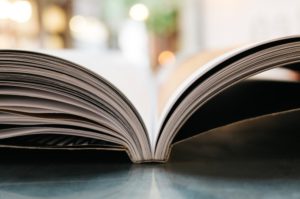 Lately, at least at my house, just about everything else in the alphabet has come before housework as well!

The image above is NOT my house but for the past two months it may as well be. The best way to describe my home – especially my sewing room, is organized chaos. Stacks of books, baskets of fabric, bins of unfinished projects, bags of more fabric… However, I'll save my "Sewing Room Blues" for another post.
---
HOUSEWORK
I read a quote earlier today that stated the best way to keep dust off your furniture is to top everything with stacks of fabric.
Here are mine 🙂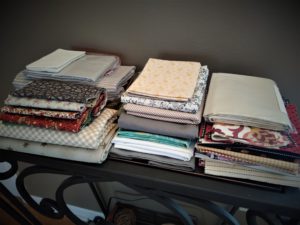 Dust will to have work pretty hard to find it's way onto this table-top! And here is a bonus tip – keeping fabric that is shipped to you in its original clear plastic wrap makes it a little easier to dust the "furniture" when that mood hits!
---
NEEDLE WORK
So…since I'm admitting I haven't done much housework lately, what exactly have I been doing?
Quite a lot, actually. However, my focus has been making these cute lap quilts.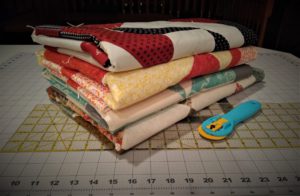 It has been just over 2 years since I joined a volunteer quilt group at the hospital where I work. We typically choose a Saturday each month (or every other month or as a majority of us are available) to spend the day piecing, cutting, seam ripping, re-sewing, talking, sharing, eating, more quilting, ironing, sweating, more eating, more talking…
The small lap quilts we make are given to our patients and their families when they transition to palliative or hospice care.
However, – between the busy holidays, the ridiculous weather (thank you Polar Vortex) and a couple of bouts of some sort of flu / stomach virus / crud, our quilt group hasn't had a chance to meet since November.
As a result, almost every minute I'm not at work (or doing something that loosely resembles housework), has been spent making a few lap quilts – four are completely finished. I'm taking a break from piecing the fifth to write this short post!
The first is made from a 6″ Jelly Roll featuring reproduction civil war prints by Boundless fabrics. These are left over from the jelly roll I bought over 2 years ago and this particular fabric is forever sold out. However, Craftsy (now called Bluprint) carries this exclusive fabric line and many other fabric choices are always available.
For this specific project I chose shades of red and blue fabric strips paired with an ivory background.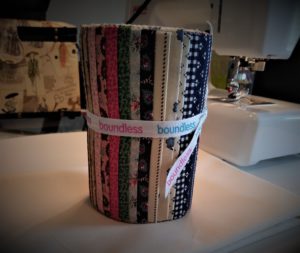 Since the strips were 6″ x 42″ I cut the strips into 6″ squares and the ivory background into 6″ strips as well. Then I paired the print with a solid or a red with a blue and made into HST's (Half Square Triangles).
Using my portable design wall I arranged and rearranged the solid squares and HST's until I found the configuration I liked. I'm calling this one Star Squared. (No doubt there is a block or quilt already made with this pattern that goes by another name – I welcome anyone willing to correct me on this!).
Once I created the star consisting of the 16 inner squares it became apparent this original size, even with a typical 3″ border, would not be large enough. Being a design consisting of HST's and squares it seemed reasonable to sew a few more HST's and simply add them (and few more solid squares) to the perimeter.
Now I was having fun! Arranging and re-arranging these squares to find the right configuration is actually quite fun and it is amazing just how many designs and configurations you can create with these little HST gems!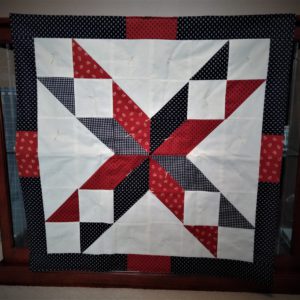 ---
This next quilt is made from 2 charm packs – the print is "Voysey" from the V&A Archives for Moda. The solid is from the "Caramel Macchiato" fabric line from Wilmington Fabrics. Both were "Daily Deal" bargains I purchased from the Missouri Star Quilt Co. and the "On-Point" pattern is an adaptation from one of Jenny Doan's YouTube videos.
The colors are wonderful and the print is a folksy print that reminds me of William Morris' craftsman style design motifs from the late 1800s. I wish I had better lighting for this image. I've chosen to take these images in my front room – even a quick ray of sunshine would make a huge difference!

---
These next two quilts are made from fabric donated to our quilt group. I took the liberty to create a basic pinwheel design for the top quilt and the pattern for the second top is from a sketch hand-drawn on a piece of scrap paper. I don't recall if it has a specific name but the pattern kind of reminds me of a baseball field so I'm naming this one "Home Run".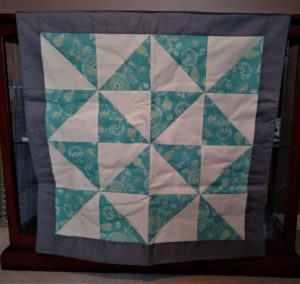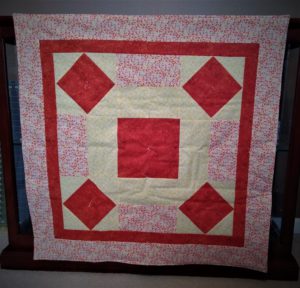 ---
There you have it – how I survived (and continue to survive) the Polar Vortex and why a dictionary is the only place where housework should come before needlework!
Leave a comment and share how you are surviving this insanely cold weather and please feel free to include an image showing us what you put before housework!
It doesn't have to be sewing/needlework – it can be anything!
I can't be the only one who puts just about everything before housework!