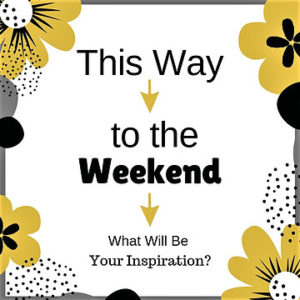 Here we are again… Thursday has arrived and Friday just called to announce she will be arriving bright and early in the morning!
I'm glad you have arrived – the perfect place to gather all the ideas and inspiration you'll need to carry you through and have the Best Weekend Ever!
---
So, let's get started:
1. Let's Have Some Cake.
It's Layer Cake week at the Missouri Star Quilt Co. Head over and take a look at the great deals on layer cakes and while you're there, take a look at the multitude of and eye-catching and layer cake friendly quilt patterns! Each one is available as an instant download (my favorite) or for purchase in paper. The layer cake special end tomorrow (8/9/19) and if you're looking for an excuse – reason to take a road trip to Hamilton, MO, this Friday would be the day!
---
2. Vintage Finds
Looking for a fresh Vintage font, or, even better, a fresh, Vintage font bundle? Rather than release just one product, the Artisan Collection bundle is being released to include 6 different products: 11 fonts, 16 premium logo templates ( for use only with Adobe Illustrator) and 20 vintage shapes. If your brand is calling for some vintage style you can also save a bundle on this bundle but you'll need to move fast – it is only for a limited time.
---
3. In the Neighborhood
Nothing does a better job of catching my eye than the contrast of black and white or, as in the image above, black and white with little pops of color and this great find has certainly caught my eye! I've been saving (hoarding) fabrics that would be perfect for this project. This is also THE project for when you cannot or do not want to invest in time-consuming tasks such as perfect cutting, perfect piecing or perfect anything and yet you want the finished product to have a perfectly neat and polished appearance. I also feel these particular geometric shapes lend themselves to this applique technique – something I'm – once again – putting on my to-do list for this weekend!
---
4. Just Beachy
Anyone ready for the beach? Already at the beach? Or anyone, like me, who would love to be at the beach but a beach vacation is simply not on the itinerary for this summer?
I was scrolling through of the images I captured while on vacation 5 years ago: (The "Good Pictures" are on another PC)
These still do the job to convey as sense of nostalgia – I so love the sound of ocean waves and the feel of sand beneath my feet!
Ironically, my next great find is not found anywhere along the east coast or even on a beach for that matter but rather in a Bake Shop, the Moda Bake Shop to be exact. So where is this leading? To another sea shore. This link will take you to the latest block of the At the Seashore Quilt Along – a QAL I didn't have time to start when it began June 3rd. However, the blocks are available by scrolling through the blog roll and the QAL itself continues through August 26th.
Here are few of the beach – seashore inspired blocks:
Need more inspiration from Moda? Check out their Cutting Table here.
---
5. Good Design
This final item for this Thursday's round-up still has us enjoying the great outdoors. A short trip inside a major retailer will quickly remind you that fall and winter are in the not-too-distant future and now is the time to take full advantage of all the fresh air, warm sunshine, and cool water summer has to offer!
A visit to one of my favorite monthly publications has all the outdoor inspiration you'll ever need to help you soak up every last bit of summer in the most stylish way possible.
Here is a slideshow that showcases the best in terms of architecture and design. It is a home that was designed and built to take full advantage of lake views and demonstrates one the most efficient uses of land resources I've observed in a long time.
---
Whether it's a short road trip to Hamilton, MO, a medium-sized road trip to Austin, TX, a long road trip to the Atlantic beaches of North Carolina or no road trip at all – we've got you covered and ready to have the Best Weekend Ever!
What inspired you this weekend?