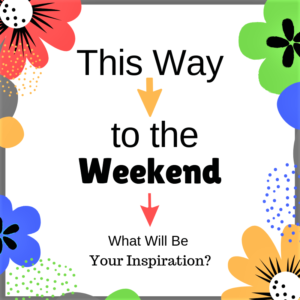 Hello!
And, welcome back to "Thank Goodness It's Thursday", or (TGIT) !
The day when Friday calls to announce she will be arriving tomorrow, but have no fear! My Quilting Space has been busy this past week collecting a few fun ideas and inspirations all designed to have you prepared and ready for you to have the Best Weekend Ever!
For the first time in a really long time I've taken the time to observe summer's transition from July to August – a pastime I typically save for the fall when the change in seasons, weather, etc. is more noticeable and much more anticipated.
However, this year, I seem to have a new perspective on life and I feel I have this blog, my quilting hobby and my website to thank.
I am also thankful for This past week has been chocked full of useful information and inspirations culminating into this one serendipitous event and the result of pure coincidence (I don't think I could pull this off if I intentionally tried)but, all Four of my Favorite Finds this week revolve around the letter "K" – Kansas City, Kristi and Kori or the "K" sound – Christy!
So, lets get started with this super Special "K" Weekend!
---
1. Calling All Architecture Aficionados! In particular, those, like me, who love the architecture of Frank Lloyd Wright. If you want to own a FLW home, it just so happens one of two FLW homes in the Kansas City area will be put up for auction in August. I'm looking for my checkbook now!
---
2. DIY of the Week – Christy of Confessions of a Serial DIY'er has a great solution for that pesky headboard (Shown above), or in my case a foot board, just lying around in your basement collecting dust. While I don't have power tools or access to power tools needed to make this same transformation, I do have a couple of ideas that I can do. A) Attach the foot board to the back of a ready-made bench. Or, B) Re purpose it into a rack to hang quilts!
Gail at My Repurposed Life has at least 50 different solutions for that headboard or foot board just sitting around doing nothing!
---
3. On the Subject of DIY – If you've never heard of Kristi at Addicted 2 Decorating, now is a fine time to get to know her! In addition to totally remodeling and renovating the home she shares with her husband, Matt, she is blogging about every aspect of every project she does. The image above is from one of my absolute favorites!
Her latest project can be found here.
If ever you needed color inspiration, project instruction or just want to see what happens when you make a decision, create a plan and stick with it, this is the place where you will find all this and MORE. This girl is amazing!
---
4. It's OK to Applique. And this video by Kori will have you saying it's not only OK to applique, it's Thursday…and what better way to spend the day than doing a little applique? The video is short and sweet but the technique is a huge game changer!
The image above is just one example of a "stitch and flip" applique project from Kori Turner-Goodhart's amazing new book.
I DO have to try this technique THIS weekend – and I promise to post my finished project here so, stay tuned!
---
I hope you were able to find at least a little inspiration to get you motivated for the weekend. If you went with item #1, then you could potentially do items #2- #4 in your new address!
Leave a comment and share how this was Your Best Weekend Ever!
Susan