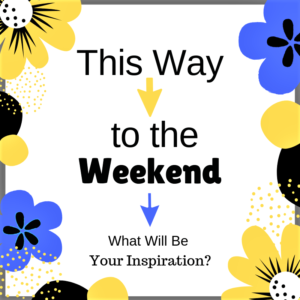 Once again it's Thursday and with the weekend barely around the corner, you know what that means! A front row seat to view five of my favorite ideas and inspirations collected throughout the week – and in plenty of time to ensure you have the Best Weekend Ever.
So let's get started:
---
1) My Sewing Room:
Making a Machine Stitch Bible. This is something I've wanted to do for quite a while and discovered it's usefulness when I was making a baby blanket using machine applique. Knowing exactly how a decorative stitch – especially a blanket stitch – appears when using different stitch widths and lengths. This saves time having to reset these settings each time you turn off your machine or change from a decorative stitch to a straight stitch and back.
Of course, another option would be to invest in a machine with a stitch setting memory but until that happens, I plan to create a stitch bible.
I also see this as a great "filler" project for those says when I want to sew something but I don't have the time or motivation to start a big project.
Need more reasons to sew a stitch bible? Five more can be found here.
---
2) Flipping Out:
Here is an update on the "stitch-and-flip" applique technique I talked about last week. It took a while to get a few shapes with edges that would easily turn and maintain the appearance of a flower.
The blue background is one solid piece – I went ahead and did a blanket stitch all the way around. The yellow and gold petals are separate units – each sewn using the stitch-and-flip technique as well. Before adhering to the blue base I did a few quick embroidery stitches and finished off the embellishing with a button.
Here is a close up:
My plan is to make this into a small pillow – the checkered fabric will be used for the back, a white front with an applique flower and blue piping around the perimeter.
Stay tuned for the finished product!
---
3) What's Happening in Hamilton:
Today's Daily Deal: The "Deal" is for today (8/15/19) only but even without the discount, this is still a very good deal for any day of the week. Perfect for the little ones in your life. When I see such fun projects like this it makes me sad my "little ones" are too old for these cute guys however, I may go ahead and sew up a couple of these for Christmas.
Returning to the subject of applique – a topic I can't seem to get too far away from these days – you must check this out! I've renamed it, "applique-all-the-way" and a great way to get through a small basket of scraps!
---
4) Planning Ahead:
" The Quilting Tool that Makes You Smarter" ~ Stephanie Palmer.
Taking a closer look, I certainly agree however…this new (and improved) 2020 Quilting Planner offers so many more benefits! Not that being 'smarter' isn't great…it is! But this "quilting tool" is just as functional, informative and inspirational as it is educational. That's packing quite a punch between covers of a spiral bound stack of paper!
Just for starters, this planner will help you become more organized which translates into better time management which leads to improved creativity. An elevated level of creativity then leads to higher quality products which in turn not only makes you a happier (and smarter) person but increases the level of happiness your followers and the recipients of your handmade treasures will experience as well!
I cannot think of one reason not to go here and pre-order yours today but, if you do need a reason, maybe this will help!
---
5) Kristi's Sewing Room:
Simple DIY Curtains: It's been a long while since I've attempted making my own window treatments. It is a project that requires a lot of space – tabletop / counter top space and LOTS of fabric. Sure, the interior designer in me prefers the quality of designer drapes ( you can read why here and here) but at the same time, the logical left side of my brain finds it hard to resist a great bargain on ready-made off the shelf drapes.
Kristi at Addicted 2 Decorating has found a solution that is nothing short of pure genius. For her particular space I think it is a very logical solution that checks off many boxes: 1) Softens the hard lines and finishes within the space, 2) absorbs sound, 3) visually provides a line of continuity between the trim height discrepancy between the french doors and the solid doors on either side and 4) creates a design detail that helps to establish the french doors as a focal point.
The image above gives only a sneak peek of the room but does give a good illustration of the drape's effect.
Going back to give greater attention to that trim detail in the image above (and she has blogged about it as well in a previous post), I'm wondering if there is another way to camouflage that height discrepancy. It would involve some deconstruction and re-construction…something like this maybe?
I believe, continuing with the current drapery panels on either side of the doors, the trim height discrepancy would not be noticed at all.
---
Anyone with a DIY project on their To-Do list this weekend? Feel free to post comments or any images you would like to share in the comments section below.
Happy Thursday and as always….
Have the Best Weekend Ever!
Susan