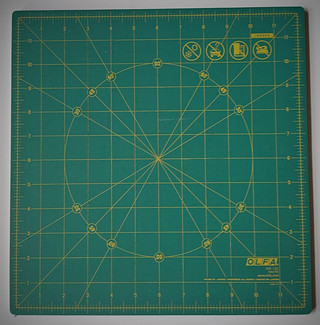 ---
---
Product:    Olfa 12″ Rotating Self-Healing Rotary Mat
Pricing:     List Price: $43.99

           Amazon Price: $28.80

My Rating:
4 / 5
---
Why I Love This Rotating Mat
In a previous post I listed the top 5 tools and techniques necessary to successfully piece your first quilt top. One of those items listed was an Olfa Rotating Cutting Mat. In that post I briefly described it's use but after reading a few other reviews I discovered this particular mat received mixed reviews. My intent here is to provide additional information to help prospective buyers decide whether or not this product is right for them.
The basic design is, in my opinion, genius. Rotating the cutting mat versus moving the fabric to be cut significantly increases the accuracy of those cut pieces of fabric. And, we all know accuracy is the key to a perfect or a near perfectly pieced quilt top.
My own quilting and sewing space is very small and much of my furniture has to do double duty. The size of this mat fits perfectly on my small cutting table (which was originally a folding TV table). It's size – just over 12" square makes it easy to move from room to room and stores easily for travel to quilt retreats and festivals.
In addition to its specialty feature, the overall design and size enables this mat to serve as a general-purpose mat for cutting, trimming and squaring up square, rectangle and triangle shapes.
Most of my quilt projects incorporate a half- triangle square of half-square triangle in to block or a block design that is a 10" square or less. Being able to place my fabric on the rotating mat – using the grid lines for accuracy, make a cut, rotate, cut, etc., until all four sides are trimmed is also a significant time saver.
---
Room for Improvement
There are however, a couple of aspects of this product I'd like to see improved.
Number 1 – the Odor. I have other cutting mats from Olfa as well as other brands and nothing has the odor of this mat. I've taken it outside foe several hours, put it out in the garage, the basement – the odor persisted. I removed the rotating bottom and covered the entire board in baking soda even soaked it in a warm water and baking soda mixture. Still, no change. The upside: through all this abuse the cutting board never lost any of its other properties – it's definitely colorfast and retains its shape, texture and self-healing properties – no matter what you do it. I'm sure there are limitations and extreme situations that would test this mat's durability for normal day-to-day use this mat will provide a reliable cutting surface for years to come.
Number 2 – the Rotating Base. While it is this aspect that makes this board so indispensable the ease and smoothness of rotation needs to be improved. Often when I try to turn the board it will stick to the base and I have use one hand to hold the base while turning the board with the other. A flaw that is probably inherent in the design however, when this does happen it sometimes causes the fabric to move or shift slightly, defeating the sole purpose of using this over a stationary cutting mat.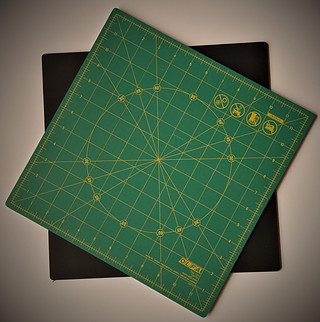 Here is a quick summary of my review:
Pros:
1. Ensures accuracy
2. Saves space
3. Portable
4. Easy to use
5. Multi-purpose
6. Durable
Cons:

1. An ODOR that can linger for over a year
2. "Sticky" base that at times prevents a consistent smooth rotation
My Opinion After 3 Years

1. I still can't live without my Olfa 12″ rotating cutting mat.
I use it practically every day
2. The odor has finally dissipated. I would say it took well over 2 years – however, after 1 year I was able to bring and keep it inside the house in my sewing room and no longer had to store it in the basement or garage.
3. I've learned to live with the occasional stickiness of the rotating base that can be alleviated with a little baby powder (which by the way slightly helps to improve the scent).
4. The list of "Pros" far outweigh the "Cons" therefore, I'm giving this a rating of 4/5. Had the odor not been an issue I would have given it another 1/2 star.
What Do You Think?
I'd love to hear your opinion! Tell me about your experience with the Olfa 12″ Rotating Rotary Mat.
Feel free to pass along a useful tip or just share your thoughts on the use of this or any other rotating cutting mat you currently use or have used in the past !