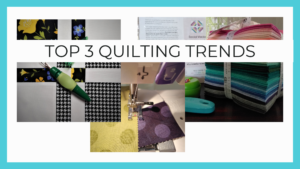 In less than 1 week we will all be waving goodbye to 2021.
Usually, I'm as happy to see the end of one year as I am to see the beginning of the next however, this year I have mixed feelings.
As far as I'm concerned, 2021 can hang around a bit longer. The whole year flew by so fast and I still have items on my "To-Do" list that I never had a chance to cross off.
On the other hand, I'm also welcoming the energy, the anticipation of a fresh new start that every new year brings.
I can' wait until day arrives when I can break open the seal on my new calendar, open it up and hang it in a prominent place in sewing room!
Looking Back
Returning to the subject of quilting trends, I took full advantage of my new sewing machine and sewing space this past year and expanded my quilting and sewing horizons a bit.
This post from last spring perfectly describes the need to occasionally change things up – to go outside of your comfort zone and try something new. In the process, I learned how to manage stress and feel more confident sewing applique onto a quilt top.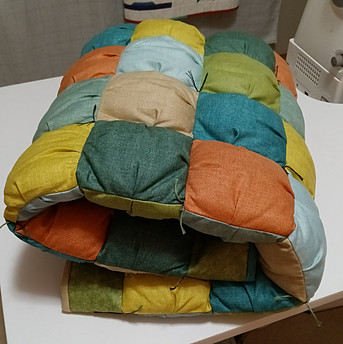 I also attempted a quilting trend that has been around for quite a while but very new to me. How it turned out can be found here.
Moving Forward
The Crafts Industry Alliance recently published results from the Quilter's Survey – a survey conducted each year by Premier Needle Arts. Information gathered is used to help those affiliated with various quilting / craft brands better understand the quilting market.
According to the Crafts Industry Alliance, this year's survey revealed the following:
1) There are currently 10-12 million quilters and the quilting market
2) This market is expected to approach $5 billion by 2026-2027.
3) In 2020 there was a more than 12% increase in the number of new quilters.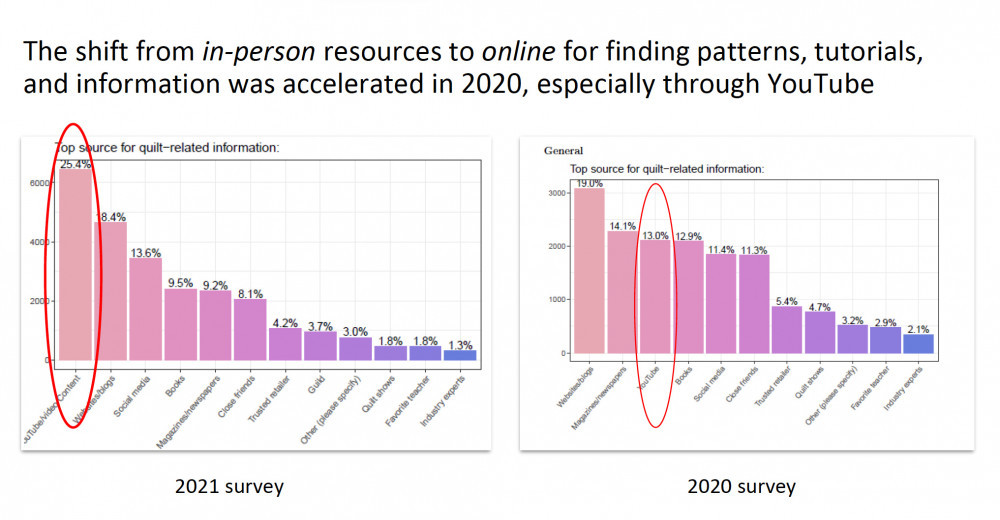 Additionally, the survey disclosed quilters are more inclined to purchase fabric and notions from an independent retailer however, online purchases are also on the rise.
And what are the primary sources quilters are using to resource information, patterns and tutorials?
1) WEBSITES, BLOGS
2) YOUTUBE
In 2018, quilters spent approx 25% of their time each day online. By 2021, that number increased by 30%. Today, quilters are spending almost 45% of their time every day online.
Quilt guilds and other in-person social outlets have sharply declined over the past 10 years.
For the most part, when you see a quilter today, "out and about", he or she will be in an independent fabric. If you are within driving distance to Hamilton, MO, many quilters can be found here – walking from one fabric shop to another!
What Does All This Mean?
Those of us who love fabric, who have a need to be creative and enjoy learning, shopping and sharing online, we have a unique opportunity to be a part of today's quilting trends.
We are also poised to create a quilting trend, or two, of our own!
As for me, I'm going to follow the bread crumbs I found on an unlikely path while on a recent Google search for a specific quilt pattern. It is my intent, during this upcoming year, to at least make an attempt to create each one of these three quilt trends.
1. "Quiltcore" – This is a trend I NEVER saw coming!
Question: What happens when you take a Gen Z'er who is bored with the digital world and pair with a soul-crushing global pandemic (and that goes with it)?
Answer: A new generation of tactile – craft focused youth with a craving for texture.
What does this look like?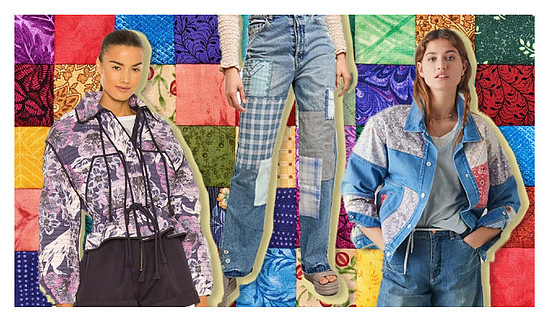 These "Quiltcore" garments when made from up cycled discarded clothing are fashion's answer to sustainability. When an old, discarded quilt is also used, these clothing items can also tell a story through the quilt's past.
2. Weaving
For the purpose of identifying quilting trends, the term "weaving" as described here takes on a whole new meaning however, the technique is essentially the same.
To get a better sense of what a woven quilt looks like the image below is, I believe the first woven quilt Matthew Boudreaux (Mr. Domestic) made back in 2016. I didn't discover it until sometime last year but with each passing day I find myself drawn more and more to this technique.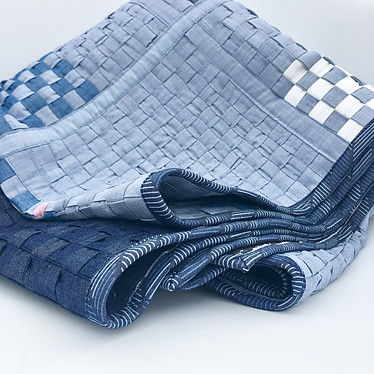 I must be part Gen Z – a quilt like this could potentially check off EVERY box pertaining to current quilt trends.
Upcycle discarded clothing (sustainability), employ a hands-on approach (tactile, creativity) with an end result a non-digital product (texture).
However, before I tackle this project I will be paying a visit (or many!) to Matthew's YouTube channel and watch his video tutorials!
3. Improv Quilting
When I discovered this trend I had flashes of memories of the many of my first quilts that were less than perfect. OK, those quilts actually, were not even close to perfect. Had I known of a technique where pieces could be cut in any random shape and arranged in any pattern and still be called a proper quilt top, that's what I would have done with these early quilts!
There are no rules and often the quilt is started, the quilter does not have a preconceived idea or plan. The design of the quilt top evolves as pieces of fabric are sewn together.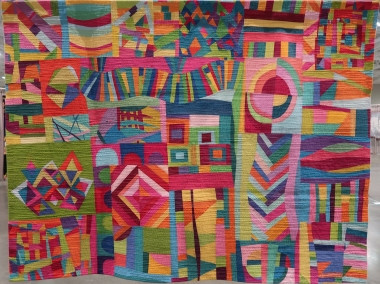 Points not matching? No problem. This is an "Improvised" pattern and however it looks is, well… how it is supposed to look!
My need for order and structure may not allow me to get very far with this one but I feel at least starting an improv quilt would be good for me. It could teach me learn to let go of outcomes and allow a natural flow of events.
I never liked to watercolor – it was too messy and unrestrained for me so I'm curious to see if I'm even able to attempt an improv quilt!
Stay tuned!
Who knows what I'll create or discover next!