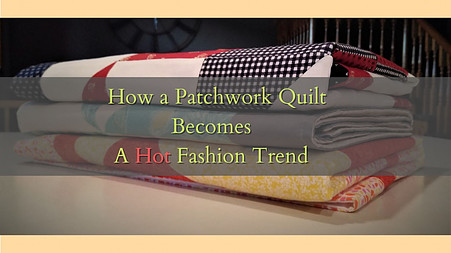 What an interesting statement.
How exactly does a patchwork quilt become – of all things – a HOT fashion trend?
My very first encounter – my first ever sighting of a quilt being used as a fashion statement happened while scrolling through images taken during the 2021 Met Gala.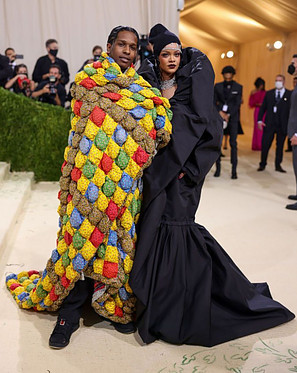 Who wore it better? Your grandmas' guest bed or A$AP Rocky?
The quilt had been made many years ago and made it's way from the owner to the owner's great-granddaughter's studio to the Met Gala. More of the story can be found here!
Wearing an actual quilt – out in public – at the Met Gala (of all places) is not something I thought I would ever see. And, I may never see such a literal demonstration of a "quilted wearable" again but this does show the continued relevance of this art form.
Fun Fact: The quilt design shown above goes by many names – my favorite is the Bubble Quilt. You can read more about the Bubble Quilt I just made and gifted here.
The Power of Timeless Design
When I hear the word "patchwork" I immediately envision an image from a favorite skirt I wore in my early teens. It was made from fabric squares in small print florals and geometrics in various shades of red, white and blue with a ruffle around the bottom edge.
So, for fun I did a Google search for "Red, white and blue patchwork skirt" and found this awesome vintage find on Etsy!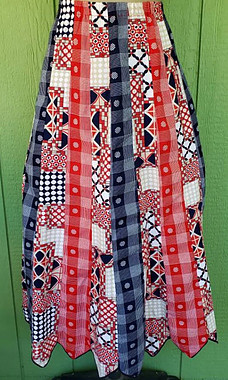 At first glance my heart did skip a beat! The skirt shown above is from the 70s and the fabric very similar to my skirt. The difference is this skirt was sewn together in strips instead of squares with a pointed and not a ruffled hem.
On that same search page however, I came across the image below – a skirt that that is definitely patchwork in the same color scheme as my old skirt but this one used modern fabrics.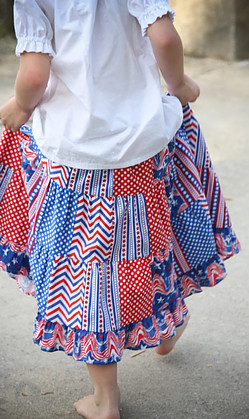 What Is Old Is New Again
So, why am I taking you on this trip down memory lane?
To show, as we have all seen throughout the years, that what was once considered old and "has-been" has the potential to become new again. Time and patience will revitalize many trends and only those trends that are truly "Timeless" will grace us with their presence 4 decades later – patchwork being one of those.
Some things will never go out of style!
Today, patchwork has taken on an entirely new-look – and price tag!
A quick visit to Nordstrom and I see Dolce & Gabanna have gotten in on the quilted / patchwork band wagon (or super yacht) and sailing full speed ahead!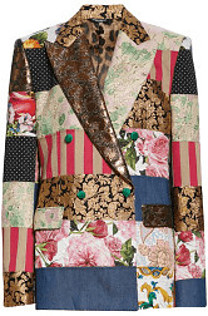 I can't imagine throwing together such a hodgepodge of colors and prints and have it look anywhere near this good. But, be advised, get it now while you can…while it's 60% off for the bargain price of only $1,998.00. (Original price was $4,995.00).
Sure… I'll take two.
Spending Money Without Asking the Price
On the subject of spending a lot of money..
Anyone else purchase one of these, "The Clammy" and think, "This looks like fun but what else in this wide world am I going to do with a template like this – that is, AFTER I finally finish the quilt top I started as a quilt-along project almost three years ago!
It is commonly called a "Clam Shell Template" and in my opinion, like the designer jacket above, is somewhat pricey given it's fairly limited usability. Compare this to other quilt rulers that can be used over and over for a wide variety of projects, a template like the clam shell is so specific and specialized, there simply are not that many varied options for its use.
However, here is one: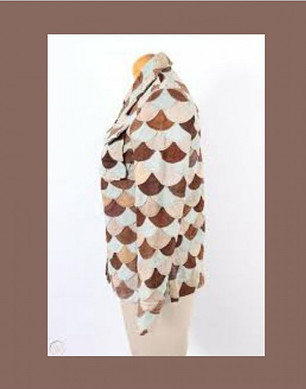 What's this you ask? Short answer: It is a vintage scalloped jacket from the 70's. It was originally purchased through Nordstrom however, to acquire this specific jacket, you will need to go here. Like the skirts above, this jacket design is also considered patchwork…patchwork with a twist – or rather a curve. The template used in the making of this jacket was no doubt a precursor to the clam shell template in use by quilters today.
Fun fact: Anything that is not made from "whole cloth" = (individual pattern pieces cut from one whole piece of cloth) and instead use several pieces of fabric sewn together to create a "whole cloth" can be considered patchwork. The fabric pieces sewn together don't necessarily have to be square.
Man Plans and God Laughs
I have to admit, when I first read about this fashion trend about this time last year my first thought, "I can barely match points on a simple four-patch block"… "making a jacket from a quilt top is way above my pay grade"!
Funny how time can alter your perspective – and sure, it may not always be for good but I'm beginning to think I may give sewing a quilt jacket a try.
Is this really something I can do? Is it something I should do?
I'm not making a quick decision here – in fact, I'd like to say I've done a fair amount of research and what I found really surprised me! There are MANY talented makers with instructions, tutorials, images – everything to prove making a quilted jacket is not crazy at all!
To get an idea of just how doable and popular this fashion trend has become take a look below.
God isn't laughing at these talented ladies!
1. Our first stop is SuzyQuilts and the quilted coat she has made. OMG…she even made one for her little one AND the dog! She goes into a LOT of detail describing every syllable of her process.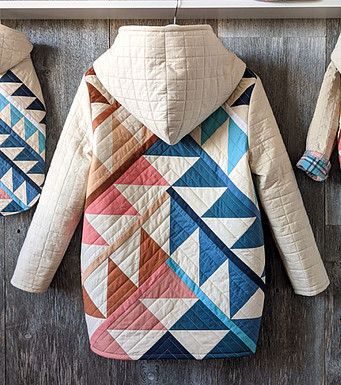 The following is an outline of the topics she covers.
How to make a muslin/toile pattern sample.
How to select fabric for your quilted coat.
Tips on color placement for your patchwork coat.
How to scale a quilt pattern for a coat.
Tips on piecing, cutting, and assembling the various parts of a quilted coat.
Tips for choosing how to finish your coat.
My suggestion: read every word, do not skip a step or overlook one of her tips – there is an abundance of common sense and authority here. I will be returning.
2. Second Stop: Patchwork and Poodles.
Elaine has curated a wonderful collection of quilt coat patterns but I have my eye on her own pattern, the Patchwork Chore Coat.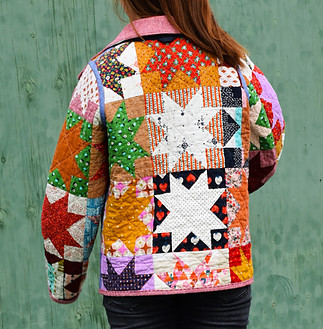 And you thought Suzy's dog coat was cute, Elaine has thoughtfully included a pattern for her own fluffy friend!
If making your own coat or jacket is not your cup of tea but, after reading all this, you're all but obsessed wanting to get your hands on of these quilted gems, take a look at the links below:
Returning to the original question –
Q: How does a patchwork quilt become a hot fashion trend?
A: Patchwork, actually, quilting as a whole encompasses many of the characteristics and values we hold dear:
Becomes a way to preserve cherished items used or made by those we love.
Old quilts can be re-used to serve a present day purpose
Re purposed fabric feeds our need for sustainability and reduce waste.
Quilts (even discarded clothing) becomes an outlet for creativity.
And WHY has patchwork become a hot fashion trend?
Nostalgia.
So, anytime you want to travel down memory lane to a place and time that brings comfort, safety and security – a quilt, old or new, will take you there.