Being Human I Have a Few Weaknesses –
Shiny objects, cute puppies, cinnamon rolls, buffalo plaid, pretty fabric and, of course, anything Christmas, just name a few.
Another weakness (as the title of my site would suggest) is quilting and sewing however, the specific pattern or design that is making me swoon these days is the pinwheel pattern.
The minute I felt like I had mastered the techniques of sewing squares together I decided to bite the bullet and give making a quilt top using the pinwheel design a go.
As beginning quilting or quilt piecing goes, triangles and pinwheels are not typically anywhere on any list of quilting and sewing techniques suggested for a beginner – like me. But how can one resist? The pattern has such a fun and playful appearance and the potential color combinations is, if nothing else, inspiring. With all that going in its favor what is all the fuss? Piecing all those triangles can't be that difficult!
Turns out it kinda is and there were a few tips and techniques I should have mastered first
My first two "finished is better than perfect" pinwheel quilt
tops shown above were actually not that difficult to make.
A closer look however, reveals what is difficult – getting every
point to perfectly match up with an adjacent point or corner.
But all that fuss is for another day.
Today, I want to show you a super quick and easy way to create a fabric ornament into the shape of a 3-dimensional pinwheel.
These can be used on a tree, to embellish a gift bag or applique onto a pillow. This is a design that with just a change of colors or design motif can be adapted to any season of the year!
A project like this is also a great way to use up those fabric scraps or remnants from a precut bundle. For these ornaments I'm using left over fabric from last year called "A Moose for Christmas" – a fabric line by Cheryl Haynes for Benartex fabrics.
This particular fabric line may not be available in your local fabric store but it can still be purchased here.
Let's Get Started!
For each pinwheel you need
(2) 5″ squares of fabric – (1) print and (1) contrasting solid.
Sewing machine
Scissors
Iron and ironing surface
Air soluble marking pen
Button or other sew-on embellishment
Needle and thread
Preparing the Square
Part 1
Place each fabric square with right sides together.
Stitch around the entire perimeter of the square leaving about a 1 1/2″ opening for turning.
Clip the corners and turn right side out.
NOTE : The opening shown in the 3rd image above is almost too small. I was able to turn the square right side out but it was a bit difficult. Don't be afraid to make the opening closer to 2 or 2 1/2″ – closing it later will still be very quick and easy.
Part 2
Use a long thin object with blunt end (chop stick, paint brush) to push out the corners and smooth the edges then press flat.
Turn the square so the solid side is face up and mark a 1 1/2″ line from each of the four corners toward the center.
Once marked, take a sharp pair of scissors and cut on each of the four lines from the corners you just marked.
Making the Pinwheel
Part 1
At the sewing machine, stitch 1/4″ from every open edge.
It's a little tricky sewing around each of the cut lines but using a 1/4″ presser foot with a metal "fence" is a perfect guide.
If the points are somewhat ragged or uneven this is a good time to once again use your sharp scissors and just trim off any excess you don't want showing.
Part 2
Next, fold up every other point toward the center. A small drop of glue can be used here or – you can do as I did – fold up one corner at a time and secure with a stitch until all four corners are folded.
Finishing the Pinwheel Ornament
Stitch a button or other embellishment in the center. This gives the ornament a nice finished appearance and hides the tips of the folded corners.
Other finishing touches:
Stitch a small loop on the back to thread an ornament hanger.
Stitch a larger loop to be used as a hanger.
Stitch or pin onto a long piece of jute or ribbon for use as a garland
If you have already tried this technique or if this is entirely new and you want to give it a try please include a picture of your creation in the comments below. 🙂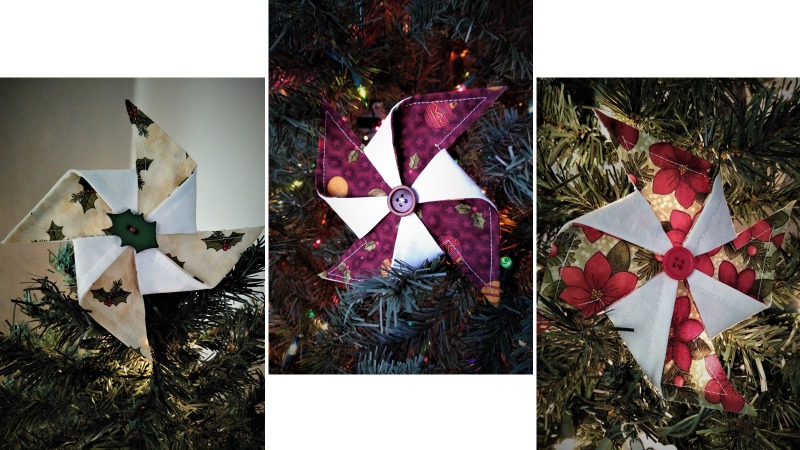 UPDATE:  New images showing how these Pinwheel Ornaments look when placed on two of my indoor Christmas trees.