That's Right – a Simple $14.95 Purchase Has Changed My Life!
It is not only a solid investment but one I should have made long, long, long ago and here's why:
Achieving a consistent 1/4″ seam is THE foundation for accurately piecing most every quilt top you make.
The above statement is nothing new but what I have discovered – just today before beginning the strip piecing portion for Block 8 of my weekly Adventure Quilt Along – is that using my 1/4″ presser foot was NOT the ticket to achieving a consistent 1/4″ seam!
Wow…Really??? Really???
All this time…and yes, I did wonder now and then, if I am actually keeping my fabric against the metal "fence" of this presser foot, how and why were my seams ending up a smidgen wider than they should be. What was I doing wrong?
Turns out, the problem was not entirely me, but the presser foot I was using.
In my previous post I mentioned a potential purchase of the Perfect Piecing Seam Guide and the reusable vinyl Sewing Edge. At that time I wasn't sure the benefits of such a purchase would outweigh the price since I already had that "wonderful" 1/4″ presser foot.
I also mentioned that I have a hard time walking past any quilting / sewing tool or notion that I feel I can't live without and this was no exception! On a whim I made this purchase and let it sit on my sewing table for a few days. My thought: I'll open it up and give it a try when I'm in the mood to try something new…someday.
Fast forward about a week – that day has arrived!
It was the following words on the label of the Perkins Perfect Piecing Seam Guide that caught my attention, "Check the accuracy of your 1/4″ piecing foot".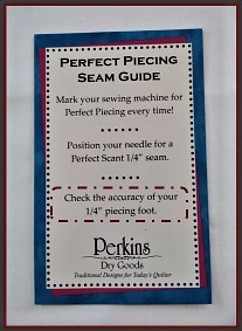 Hmmm…it never, ever occurred to me that my 1/4″ piecing foot was anything but accurate – after all, 1/4″ is in its name for gosh's sake!
Now, I'm curious. I've got know if my 1/4″ piecing foot is accurate.
Following the instructions, (with the 1/4″ piecing foot in place) I placed the guide on the footplate and lowered the needle into the hole.
Whoa!!!
The edge of the seam guide doesn't come anywhere near the fence on the 1/4: piecing foot!
OMG!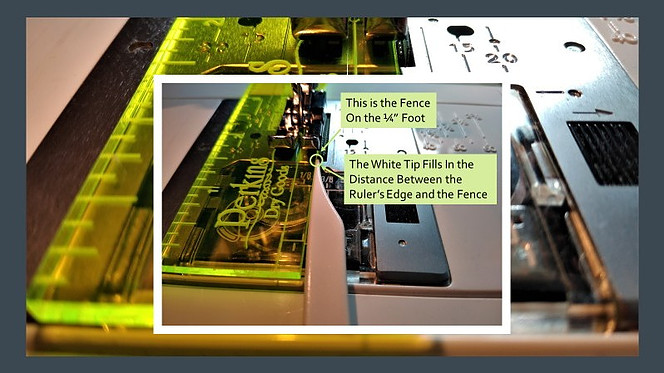 In spite of poor lighting, the image above is my attempt to illustrate this distance between the ruler and the metal fence on the 1/4″ piecing foot. The purpose of the fence is to act as a guide, the idea being as long as your fabric ran against this fence you are assured of a perfect 1/4″ seam.
Imagine my surprise when I discovered what I consider a huge gap of empty space between the ruler's edge and the fence!
I've placed the tip of one of my lint brushes to fill in this in the gap. If the 1/4″ presser foot was really 1/4″ from the needle there wouldn't be any space whatsoever – nothing should be filling this gap between the right edge of the ruler and the metal fence.
The second half of this equation-
The vinyl strips.
I've tried painter's tape, masking tape, etc., and I suppose they would do in a pinch but these sewing edge vinyl strips are WAY better! They are just the right amount of thickness and the adhesive is strong yet easy to lift off and re position as needed to get perfect alignment along the length of this strip.

Once the strip is in place, remove the ruler and begin sewing!
The images below illustrate how the vinyl strip is used to create the perfect 1/4″ seam

The fabric strip set consisting of 1 red and 2 white strips when sewn together are to measure 6 1/2″ wide. I can't remember the last time (if ever) that I was able to sew a consistent 1/4″ seam the full length of a 20″ or so strip set!
One More Lesson Learned
This purchase has also taught me what the term "scant" means – a word I've seen used here and there but I never really understood its meaning until now. Scant – as in just barely, almost 1/4″ – the width of the ink used to mark a line on a ruler. I have to admit I've never bothered too much about the "scant" thing as it has been my philosophy that whatever the seam allowance you choose just make sure it is consistent throughout your project and all should be fine. 🙂
Concluding Thoughts
1) Even if you feel sewing an accurate scant 1/4″ seam is no longer a problem or an issue of any kind, it may be beneficial to go ahead and at least use the Perfect Piecing Seam Guide to check and make sure the 1/4″ mark you are using is accurate. When you do check this, I hope you aren't as surprised by the results as I was!
It's much easier to create an accurate seam marking before you start a project than regret it later when seams don't match up and you aren't able to figure out why.
2) I'll be tossing the 1/4″ piecing foot aside – way off to the side! From now on, I be using my walking or even feed foot (pretty much exclusively) and keeping that pretty purple strip in place!
As thankful as I am for these wonderful products, I can't help but wonder why quilters have to bother with this in the first place. Every sewing machine I've ever used has a marking for pretty much every seam allowance imaginable but NONE have a marking indicating a 1/4″ seam – NOT ONE.
Is it fruitless to expect sewing machine manufacturers to wake up and realize the necessity of having a 1/4″ clearly indicated on the footplate? And let's suppose they do wake up, is it unreasonable to expect them to take the next step and acknowledge this need by including this 1/4″ mark on all footplates? And why isn't this marking there already?
So many unanswered questions however, one main question has been answered: Purchasing the Perfect Seam Guide and Sewing Edge Vinyl Strips is the best $14.95 I've ever spent!
What is the best purchase you've ever made?
What is the one quilting or sewing item you cannot live without?
To learn more about this product go here.