The Adventure Quilt A Long …a Road Trip has become quite a learning experience and has proven to be every bit as educational as adventurous.
The Journey So Far

…
I've learned how to: 1) develop a system of organization, 2) discovered additional uses for a walking foot and 3) piece several blocks using new-to-me techniques – the most educational and adventurous being Paper Piecing!
For anyone even vaguely familiar with paper piecing I'll, put your mind at ease…this is NOT a tutorial or even a hint of an attempt of any form or fashion to explain ANY aspect of paper piecing.
Why?
Because…and I'll be 100% honest here…getting started with paper piecing is comparable to learning an entirely. new. language. And this post isn't about learning a new language – quilt or otherwise. 🙂
When comparing this piecing technique to basic and straight forward stitching of two pieces of fabric together, paper piecing is like nothing you have ever done or seen before. It will cause your mind to bend and twist – maybe even turn inside out! The same effect that learning a new language has on my brain!
However, once you've overcome that one small hurdle, it becomes evident that paper piecing is actually easy. (To this moment I continue to be amazed at the genius that developed this technique!). Once you master the paper piecing you will not only experience a huge sense of accomplishment but you will also find that it is the absolute best way to make sure your points line up and the only way to piece irregular shapes to create a consistent block design.
For those of you interested in learning more about how exactly paper piecing is done there are WONDERFUL video tutorials out there in the blogosphere! A simple google search will have you connected in no time. Once you do, just try it! Simply go ahead, pull out some fabric scraps, print off or trace a pattern onto fairly thin paper and give it a try.
Don't Fear the (Seam) Ripper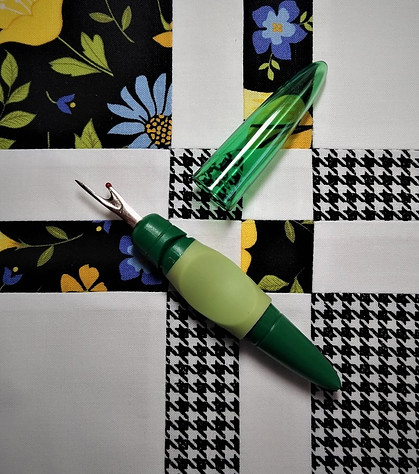 The fear of making a make a mistake or two (or learning opportunities as I like to call them), should not hold you back from at least attempting paper piecing – mistakes at the beginning are inevitable and simply a part of the process. Everyone that has learned how to paper piece – especially those of us who are self-taught, learned the process by making mistakes. Learning what not to do is as educational as what to do.
To Buy or Not to Buy...
What I do want to discuss are justifications for purchasing a few specialty quilting items. This message is especially for those of you currently participating in the Quilt Along or for those who are contemplating making this quilt at a later date and are not sure whether to make additional purchases for this project.
I will admit, I've never met a quilting/sewing notion (or kitchen gadget) that I didn't like! Before starting this journey I first read through the list of optional / specialty items suggested for this project and noticed a few I didn't have.
Oh joy! I'm all about any reason to buy a new quilting-sewing-thingy!
The items below are only a partial list but include items I either have or have used so far with blocks 1-8:
Quarter Inch Marker also known as the "Quilter's Wand"
The following rulers: Add a Quarter Inch, Tri-Recs and the BlocLoc HST;
Paper for paper piecing and the
Two other specialty items listed include the Perfect Piecing Seam Guide and the reusable vinyl Sewing Edge. Both can be purchased together here
For those of us who still struggle with sewing perfect 1/4″ seams these items should be at or near the top of our list. Of all the specialty items listed in this quilt along materials list, the seam guide and vinyl edges are the only items I don't have. And it's not because I am perfect and sew a perfect 1/4″ seam every time…oh no…that's not me! However, I have found that as long as I take my time, use my 1/4″ seam foot or correctly locate a "mark" on another presser foot, achieving a consistent 1/4″ seam isn't as difficult as it used to be.
In any event, I am still intrigued by this product and may have to purchase it anyway – I'm always in the market for that game changing, live-saving, cannot-live-without quilting tool or notion and this could very well be it!
THE TOOLS YOU DO NEED!
Add-A-Quarter Ruler and Paper for Piecing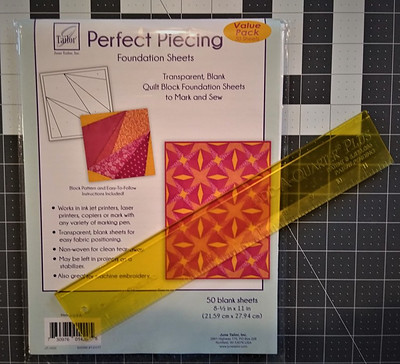 These two items go hand-in-hand with the paper piecing technique. Yes, can make do with a standard quilting ruler (for example, a 2.5″ x 12.5″ ruler). After all, it has markings all over the place for 1/4″ and I do use my 2.5″ x 12.5″ ruler ALL THE TIME but I have discovered the unique design of this handy ruler assures a consistent and accurate 1/4″ cut every time.
Again, I will not go into the specifics of paper piecing here but I feel only fair to share these images below to give you the idea of how the folded paper and Add-A-Quarter ruler are used to position and trim before each seam is sewn.

The image below will show you the appearance of a finished block with the paper attached.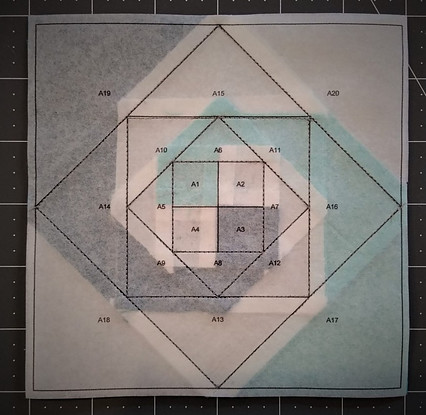 The Letter/Number combinations printed on the paper tell you which fabric is used and in what order. And yes, the fabric is sewn directly onto the paper!
This technique is another reminder of the importance of developing a system of organization. It cannot be stressed enough the importance to be able to easily and accurately locate the exact fabric pieces as they are needed.
Below is the front side of this same block with the paper still attached to the backside.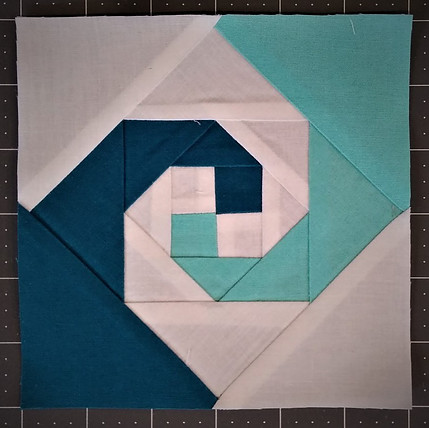 My very first attempt at paper piecing actually began with the block shown below entitled, "RoundAbout". I grabbed a few scraps from my stash and pieced this "practice" block and if this is your first time with paper piecing I would suggest you do the same. Removing the stress and fear of potentially ruining the fabric you want to include in the final quilt allows you to place more focus on learning the technique.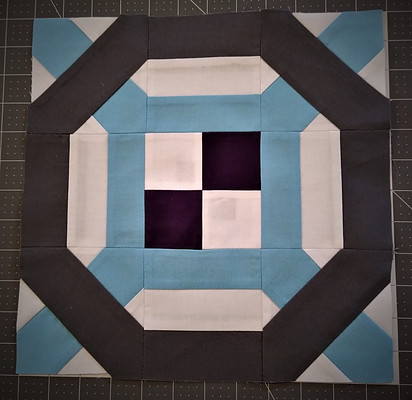 I can't wait to make this block again using the colorful fabrics I've chosen for this quilt.
I would love to hear your stories about paper piecing – how you started and how often do you use this technique especially when other options for piecing are available.
.