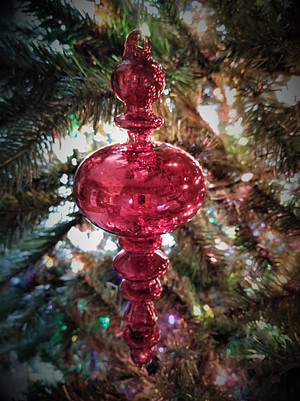 I love Christmas as much as anyone but I have to admit I'm glad it's here and tomorrow will be the beginning of things returning to "normal".
However, before  things return to normal I felt this to be a good time to share and very short but sweet snippet of what's been happening in the sewing room these past few weeks.
Christmas Wishes
Of all the Christmas projects I had hoped and wished would be finished by Christmas and the one I'm most proud of is my Christmas Tree quilt.
It is basically made from sewing together 2 1/2″ strips lengthwise and cut to decreasing lengths to create the tree pattern.  Leftover fabric strips were also used to create a second outer border.
I was so happy with the increased overall size but I wasn't happy that this meant I wouldn't have enough fabric for a one-piece backing.
Enter, those lovely jelly roll strips!  I sewed together the strips to create four panels that could be pieced with the green fabric.  It was not what I planned and added time to complete the quilt but I'm happy with how it turned out.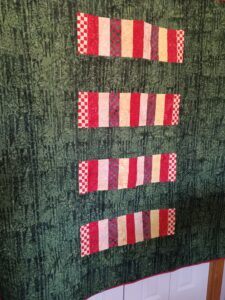 I had a lot of fun stitching the strips and learned a LOT about free motion quilting.  My original intent was to have it professionally quilted on a long arm but I needed to get it in to the shop by early September.  This wasn't ready to be quilted until December 23rd!
Finished is Better Than Perfect
Many mistakes were made…many lessons learned but it all will serve to improve my skills as a crafter and quilter and give me a better sense of how to manage my time with future projects. The downside to making the attempt to finish before Christmas left me at times too stressed to enjoy the journey.  Next time, the journey comes first!
On the subject of "finished is better than perfect", I managed to applique and quilt another mug rug – (The perfect size for my husband's favorite Christmas mug and what's left of my last two batches of candy)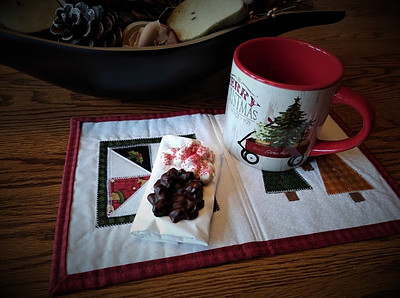 And stitch a few felt ornaments: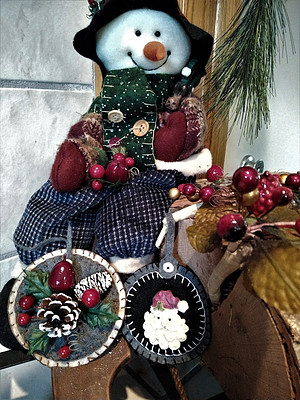 There are my Christmas wishes – projects I was determined to finish before December 25th!
Fabric Dreams
Now, on to the fabric dreams! It seems I've been really good this year as I received something (actually 2 things) I never expected: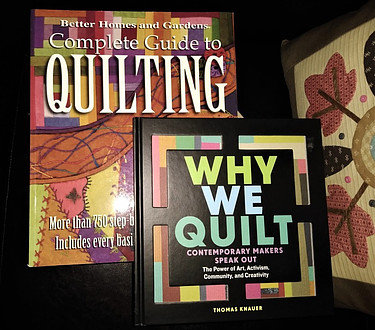 Not one but TWO books on my favorite subject!
A quilter like myself would not be surprised to receive either of these books as a gift from a fellow quilter but finding these under the tree were even more special because they were given to me by my husband.
I have no doubt he supports me in my hobby but taking the time to choose such a thoughtful gift shows he not only supports me but wants me to have every available tool at my disposal to maintain my enthusiasm and facilitate my success as a quilter.  That has to be the best gift of all!
As I read through the pages of each book I will no doubt be inspired to create and to share those inspired creations here!
Stay tuned and watch this space – My Quilting Space.