If you are like me when the quilting/sewing/I-have-to-make-something bug hits it usually happens when I've eyed a stunning quilt or located a new fabric line, my first thoughts – "I need to make that" or "I have to make something with that fabric".
Like many worthwhile things in life, quilting is not always so quick and easy. Even patterns and kits labeled as "Quick" and/ or "Easy" omit the preparatory steps that make the difference between finishing that quilt top or turning that pile of fabric into another UFO (UnFinished Object).
The goals here is to show you, step by step, the 5 basic techniques, when followed, will eliminate mistakes, do-overs, wasted time and money. There may be a bit of time expenditure in the beginning but in the long run, these techniques will allow you to successfully begin and complete every quilt top you attempt.
Step 1
– Have the Right Tools
This includes a cutting mat in TWO different sizes. If you don't have one already this is the time to go ahead and bite-the-bullet and get a large 24" x 36" self-healing rotary cutting mat. It may seem like over kill but trying to make do with anything smaller will lead to nothing but frustration and second trip to a brick and mortar or online store to purchase
one. (If some reason you purchase this and find you never use it contact me and I'll be happy to buy if from you!).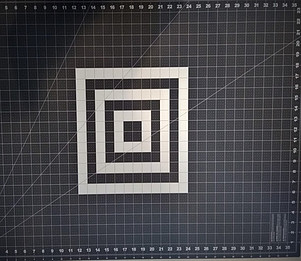 The second mat is a smaller 17" rotating cutting mat. I have found I use this A LOT especially when piecing half-square triangles and squaring any block 10" and under. Once you start using it you will want to use it every time you make a cut!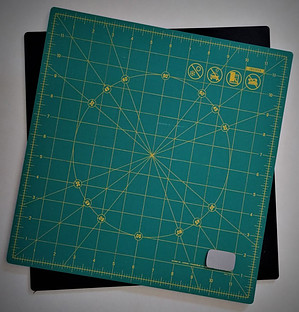 Other tools include a good iron and ironing surface, a rotary cutter, scissors, a quilting ruler (a 2 ½" x 12 ½" is a good size to start with and the one I find using about 85% of the
time!). For the sewing machine, I have found the ¼" presser foot something I cannot live without. When it comes to thread – so many types and colors but start with a good 100% cotton 50 wt. thread in a neutral color (white, light and/or medium gray and black).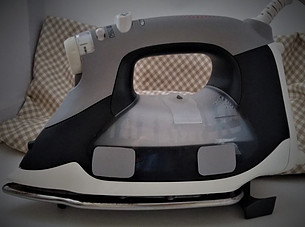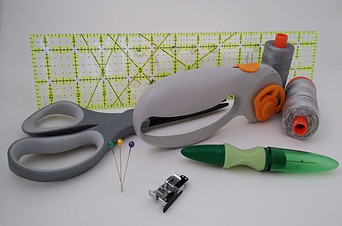 Step 2
– Cut ALL Pieces Accurately
When you have the right tools – large enough cutting mat, rotary cutter and ruler – this is easier than you think. However, cutting with these tools is much different than cutting with a pair of scissors. My suggestion would be, before using the fabric you have chosen to piece your quilt top, practice making accurate cuts with scrap fabric – old bed sheets or pillow cases work very well.
Begin by taking a piece of fabric approximately 12" square and laying it on the large cutting mat. Then using your rotary cutter and ruler practice cutting 10" squares. This is a good time to try out the rotary mat. Place a 10" squares on the mat and using your ruler, cut this square into (4) 5" squares. You will be making one cut right down the middle then without moving the fabric, turn the mat instead and make another cut down the middle. Next, using the same technique (cut, rotate, cut, rotate), cut the 5" squares into (4) 2 ½" squares.
When you are finished you will not only have squares of fabric that could be used as a background for a many quilt top projects but have learned the math used and the time taken to make pre-cut fabric bundles! Which lead me to the next strategy:
Step 3
– Use Precut Fabric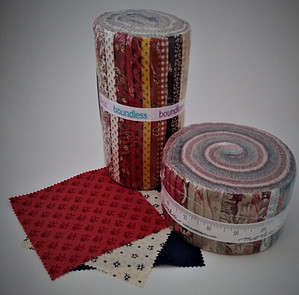 After making the above cuts it will seem obvious what a time saver it is to use pre-cut fabric however, there are a couple of down-sides. The first being the fabric design itself. You may have a wonderful quilt pattern that uses 2 ½" fabric strips but the fabric you want to use is not available in this cut. So, what you do is make a couple of decisions. Is your time more valuable than the design you want to create? If so, are you willing to compromise and choose a fabric in the precut size you need?
Step 4
– Sew a Consistent Seam Width
At this stage consistency and accuracy go hand in hand. You 've measured twice, cut once and have arranged the pieces to be sewn together. THE thing that will ensure your pieces line up correctly is sew each seam the same width. Typically, a seam is ¼" from the edge – the reason for using a ¼" presser foot. It has a little "fence" along the right edge. When you keep the edge of your fabric against this "fence" the entire length of every seam will be the same. For some reason, these plates (at least on the machines I'm familiar with) do not have a ¼" marking and I have found I cannot sew an accurate seam without one!
There is nothing wrong with sewing a 3/8" or even a ½" seam allowance and if you choose to do so, most sewing machines have a mark on the needle throat plate that you can use as a guide. What is important, that whatever seam width you choose you use that same width for the entire quilt top.
Step 5
– Iron Seams to the Dark Side or Open?
I realize what I'm about to say could lead to an open invitation from the "quilt police"! Pressing your seams before moving on to each subsequent step is almost as important as the sewing itself and no one is going to challenge me on that however, when it comes to "how" to press those seams there are differing opinions.
In the past, it was necessary to press both pieces of fabric to one side – typically to the "dark" side. This served two purposes: 1) the darker fabric was used to help hide the fabric at the seam and 2) closed the seam to prevent the inner layer of batting from working its way through the seam.
Today, the batting that is used is somewhat denser and of higher quality and our quilting techniques have improved – most of which is done my machine.
As result, out seam pressing techniques can also be modified a bit. I like to press all my seams open – yes, I said it…ALL seams open and here is why. Many quilt patterns that incorporate a variety of shapes and sizes – points in particular – are so much easier to work with when the seams are open. Closed seams create a huge amount of bulk at the points where the pieced points meet. Sometimes there so much bulk it is hard to get a machine needle through it and if you do, when it's time to press, the seams will not always lay flat. This unsightly bulk never goes away. It's still there when it's time to quilt and still there after the quilt is bound and finished.
Since this article is about piecing strategies for instant success – getting things right the first time – I'm sticking to my guns and suggest, at least for now, you press all seams open. When time allows and you are feeling adventurous, try pressing all your seams to one side (or the dark side) and see what you think. There are certain quilt top patterns where you may find it best to use both techniques!
If anyone has other – better – tips and techniques feel free to share in the comments below!
Susan