Let's start this conversation with the frequently asked question, "Why do you make quilts?"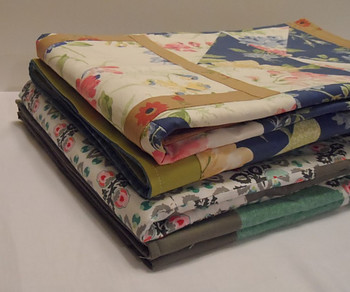 This question could apply to almost any topic. Why make anything? In this day and age when basically most every item you need can be commercially manufactured, mass-produced and purchased at a much lower price and in less time, why would you go through the time, trouble and expense to make anything – especially a quilt?
I have to be honest, when someone asks me this question it is not any easy one to answer. Especially when there are a number of online avenues that advertise " 3 Piece Quilt Sets" for under $100 or $200. Add to this, the number of retail chain and outlet stores that have many, many quilts/comforters/blankets available for sale in all sizes and price points, the idea of making a quilt gives me pause and has me asking the same question.
The simple cost of making a quilt alone certainly adds to the difficulty justifying such a venture.
However, …there are many qualities that distinguish the quilt or blanket you buy in a brick and mortar or online store from what you piece and quilt yourself. Below are the top five reasons why I love to make quilts and the reasons why I will continue to make quilts for probably as long as I live!
1. Fabric Quality
Designer quilting fabrics are manufactured using the highest quality materials and techniques. The thread count is higher than basic cotton or cotton/blend fabric – typically 60 x 60 threads per square inch. However, some fabrics have a higher thread count. These fabrics almost feel like silk. Take a look here if you want to read more on designer quilting fabric.
2. Quilt Pattern
In this sense, I'm referring to the quilt pattern as the specific color or colors of the various shapes sewn together to create the overall quilt appearance – the "How it looks".
For example, let's say you are in the market for a quilt pieced into a "Double Wedding Ring" pattern using fabrics from a favorite designer and / or manufacturer, the most probable way to accomplish this is to make it yourself – (or have it made).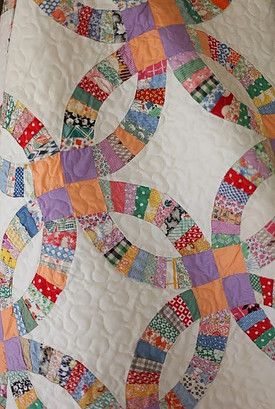 Another scenario – you have cherished fabric from clothing worn by your children when they were young and want to use it to create a quilt in the double wedding ring pattern to give as a gift when they marry. The only way to make that particular quilt is to make it yourself. That specific item will not be found on eBay or Amazon!
3. Quilt Design
This describes the actual "quilting" process – the design used with needle and thread to create the "quilted" appearance.
This example shows a very traditional design – the Continuous Line Cross-Hatching pattern on a very traditional quilt pattern – the Irish Chain. You can read more about this quilt here.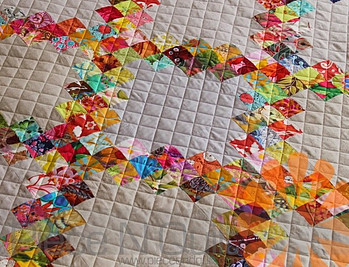 This is such an easy and common pattern – it can be found everywhere. It is the quilt pattern used in the manufacture of coveted and high end bags and purses such as this iconic handbag :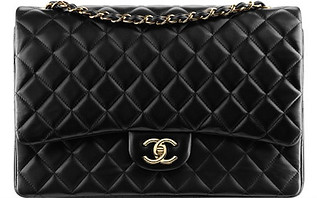 Modern long arm quilting machines however, have taken the basic, traditional quilting technique to an entirely new level. Using creativity and imagination to place stitches into an intricate pattern instantly transforms any pieced quilt top into a one-of-a-kind work of art. Again, this creation is an item not easily mass-produced – yet. ( Sadly, I'm sure someone, somewhere is working on this…)
Looking closely at the image below a variety of quilting patterns have been used. This snot only adds dimension to the quilt top but allows specific fabrics and design elements to stand out and become more prominent.
4. Originality
This is for those of us who have an insatiable need to maintain our sense of individuality and resist, at all costs, the trap of following the crowd. Not that the "crowd" are a bad bunch of people but as for me personally, I have no desire to have home decor / bed quilt, etc. to be a replica of what 2,000 other people have purchased.
It is my personality and design style that I want to stand out! And for this reason, my creations, for the most part, are designed to fit the recipient. If what I have designed and created happens to appeal to the masses I consider that a bonus!
When it comes to gift giving, originality is always at the top of my list.
The image below is a baby quilt I finished about a month ago.  It is not a 100% original – the pattern was purchased from a designer and the fabric here.  However, I highly doubt there is another baby quilt with the same pattern and fabric combination!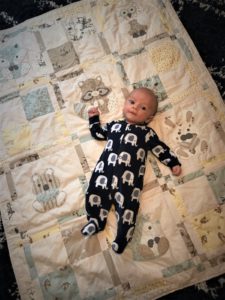 5. Charity
I belong to a quilt committee at the hospital where I work and our mission is to make quilts to be given to our patients and families who transition to palliative or hospice care. For me, this quilting group represents a unique and creative way to give back – not only to the recipients but within the group as well.
Members of our group represent all skill levels – some cut fabric, others piece quilt tops, others do just the ironing or tying off. True, when we meet it is primarily for the purpose of replenishing our quilt stock but these 6 – 7 hours are also an opportunity to learn or instruct new techniques or share quilting tips.
Each of us is well aware of the potential struggles involved with making any quilt and anytime we can offer a tip to make any aspect of the process easier for another makes the event a win-win situation for all.
Bonus
There is no better way to spend a cold snowy day than making a quilt which is exactly how I spent this Monday! I should give thanks to my sewing machine and fabric stash for keeping me off the streets! So, in preparation for our next quilt meeting, I pieced these two tops today: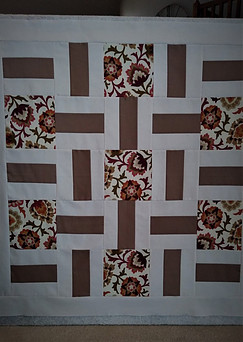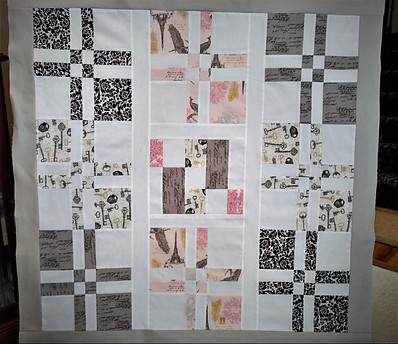 The first is an adaptation of a pattern called "Off the Rails". The second is made up of practice blocks in the "Disappearing Four Patch" pattern. Both quilt tops shown above are made using scraps from my stash. They are not perfectly color coordinated however, these images taken with my phone camera and less than optimal lighting do not render the color representations to be even less accurate. To get a better picture of the fabrics used, material of similar color and pattern can be found here. Once the batting and backing are added, the perimeter top stitched and the quilt the layers tied together they will be ready for giving.
So, there you have it. My top 5 (and a bonus) reasons for quilting.
What are your reasons for making quilt or for making anything? Is the reason you began quilting still ring true today or over time have you developed a new source of motivation or inspiration?
I would love to hear your thoughts!