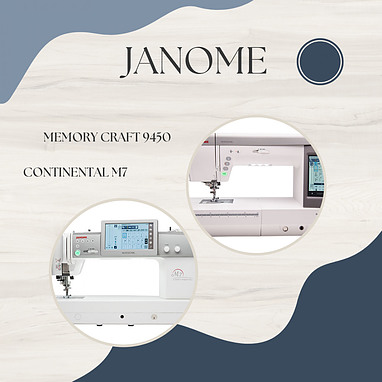 It is an understatement to say I am amazed at the number of comments I continue to receive regarding my review of the Janome 9450 both online and in person.
When I made this purchase I felt the 9450 was IT. IT would be the last sewing machine I would ever purchase.
IT still is my IT machine.
However, as with anything we perceive to be the Holy Grail, another Grail that's a bit more Holy than the original comes along. And with that new discovery a thousand questions are formed and a million searches launched. All this in an effort to decide whether a newer, possibly better machine is worth the investment.
Janome 9450 Pros
1) 11″ Throat space.
2) Automatic thread cutter.
3) Automatic foot lift for sewing curves and making turns without lifting the needle.
4) Choice of fabric feed power: a) Knee bar, b) Foot pedal or 3) Start / Stop button.
5) Good lighting with an integrated retractable light in the needle housing.
Janome 9450 Cons
1) Touchscreen placement – on the side and does not lock out when the machine is on making it very easy to accidentally touch the screen and change settings without knowing until it's too late.
2) Bulky Needle housing making is difficult to access the needle.
3) Automatic needle threader is a disappointment. If it worked as it should, it would make up for the bulky housing design.
4) Does not have a spool holder for the larger spools and cones of thread.
5) Does not do embroidery.
The comparison I'm making between the 9450 and the Continental 7 is based on my personal experience using the 9450 and the research I've conducted on the Continental 7.
However, for those on the fence and unsure if the expense of a Continental 7 is justified (vs the expense of a 9450), I'm hoping to make a clear distinction between the two machines that will enable you to make the best choice for you.
Size Matters
The 9450 is a monster of machine in it's own right and it was the size of the throat space – a whopping 11″ – that checked the first box in my list of requirements.
If, you feel that isn't an adequate amount of space for your needs, the Continental M7 has an even larger throat space – 13.5″ with an overall 13.5″ x 5.5″ work space. It's the largest throat space of all Mid-Arm machines on the market. If, want bigger, you'll have to move on to a long arm machine.
Let's Compare Notes: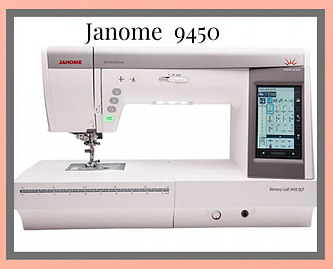 9450:
Overall Dimensions: 20.8″ W x 12.6″ H x 9.6″ D
Weight: 29.1#
Throat / Work Space: 11″ from needle to right side of work space. Work space: 11″ x 4.7″
Screen Placement: To the right of the work space.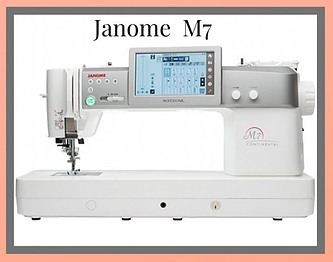 Continental 7 :
Overall Dimensions: 25.6″ W x 14.6″ H x 10.2″ D
Weight: 36.8#
Throat / Work Space: 13.5″ from needle to right side of work space. Work space: 13.5″ x 5.5″
Screen Placement: Over the work space – more convenient and efficient than when placed to the right of the work space.
Think About This
A common theme when acquiring something new is often expressed as, "bigger is better".
Sometimes bigger is better – other times bigger could mean a big headache down the road.
Should you be upgrading from a small arm or even the 9450 to the M7 make sure the table or cabinet you are using is big enough. Once you've invested a significant amount of money into anew machine you may find you may need to make an additional purchase in the form of a table or cabinet that fits.
What's Your Purpose
How you intend to use a sewing machine is your first big decision.
If, purely want to sew garments then the 9450 is your best bet.
However, if you are like me and, 1) Will spend a majority of your time quilting, 2) Do not want to invest in a long arm
machine, 3) Do not want to send your quilt off to be quilted by someone
else and 4) prefer to do your own quilting then either of these
mid-arm machines will fit that bill.
Should machine embroidery be your interest or, if you remotely think you want to machine embroidery at some point in the future, you need to look at other machines. Janome has a few great choices in a wide range of pricing.
Neither the 9450 nor the Continental 7 have true embroidery capabilities. Each have a few "embroidery" stitches but if you want to use a hoop and super cute patterns (Kimberbell comes to mind), you will need to consider another machine like, maybe, the Continental M17. (I will save the discussion about the M17 for another day. This is a machine that deserves an entire book to itself. It can't really be compared with any other Janome machine – in the same way one cannot compare a Lexus with a Lamborghini).
Final Answer
When all is said and done, if at the time I was making this purchase, had I had the funds, and knew then what I know now, I would, in all likelihood, purchased the M7 over the 9450.
As I continue in my quilting venture and begin to explore other creative outlets for example, bag making and applique, I'm beginning to see that the "one-machine-fits-all" is more myth than reality.
For the longest time, I thought having more than one machine was redundant.
I no longer feel that way.
A philosophy that hasn't changed with time: Always buy the most expensive machine you can afford. That lessens the number of regrets you experience down the road.
In a perfect world, I would have the following three machines:
1) Janome Continental M7 (sewing, quilting)
2) Janome 550e (embroidery)
3) Janome Quilt Maker Pro 20 (long arm quilting)
OR,
The Janome Continental M17 (sewing, quilting and embroidery). This one is also a mid arm machine with a 13.5″ x 5.5″ work space. The jury is still out as to the benefits of owning a long arm machine in addition to the M17. Again, it largely depends on your purpose.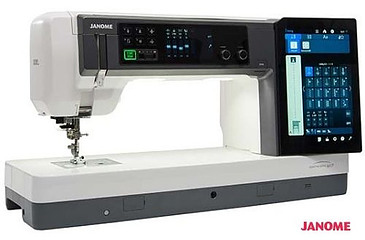 I'm curious to hear what other machines other quilters are using especially those who have purchased the Janome Continental M17.
Make Something Today!