July has arrived and with it LOTS of heat and sunshine and that's just in my sewing room!
My sewing machine has been running blue blazes and this past week I've felt fairly productive.
Quilts,
If you read my most recent post, the ONE big item on my list-of-things-that-I-HAVE-to-finish-soon was the Up In The Air baby quilt I started back in January. Had I listened to that voice in my head that kept saying, "you should slow this down and wait until after the baby arrives to piece the top – gender neutral is so…neutral". It turned out OK but I think it would look so nice to be able to include pink fabric stripes and just one pink hot air balloon along with a green and yellow balloon. It also needs a border of coordinating fabric. Waiting longer until fabric stores re-opened, I could have possibly found exactly what I was looking for at a couple of shops near me.
Two Lessons Learned
1. Never put off for tomorrow what can only be done today, and

2. If the baby's gender will not be revealed until birth, there is no harm waiting until after baby arrives to begin piecing the quilt top.
Quilts
The Summer Sampler 2020: Summer of Easy Piecing quilt along is in full swing! Making a new block each week is not only fun but, keeps on track! Joining the private Facebook group has been the most fun I've ever had on Facebook. There are so many creative people and having the opportunity to see the different fabrics and fabric combinations used by others is inspiring.
So far, we have pieced 7 different blocks. Mine are shown below however, I'm listing the name of each block in the order I have pictured rather than the order in which they were sewn:
Block 1 – Trellis Block 2 – Tide Pool Block 3 – Lakeside


Block 4 – Brae Block 5 – Infinite Pinwheels Block 6 – Convergence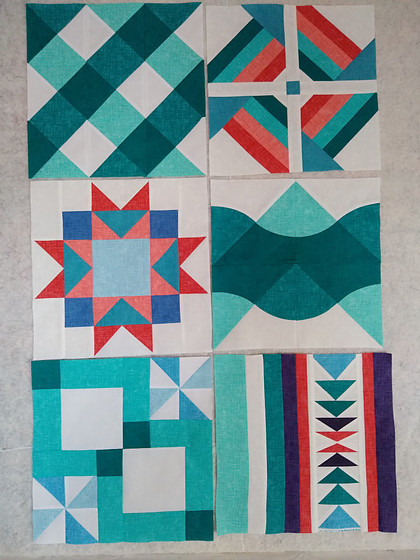 Block 7 – Divergence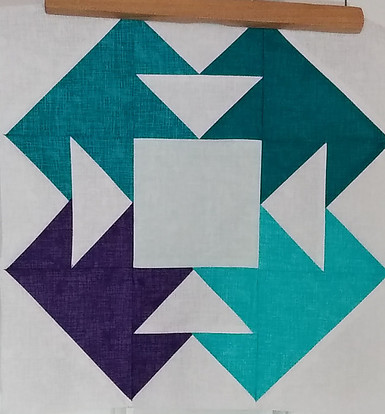 Was completed just yesterday…just under the wire before Block 8 arrives in my inbox in just a few hours from now – around midnight'ish on Monday, July 20th. Anticipating the new block each week gives me something positive to look forward to!
And More Quilts
Rounding out my week are the quilts I make for the Comfort Care quilting group at the hospital where I work. The pandemic has really put the brakes on our group's ability meet and sew together so, the new normal is sewing these quilts at home. While sewing at home has it's advantages – I'm so easily distracted by conversation and may be a tiny bit more productive on my own, the disadvantage is the ease in which these quilt kits can be stored away in my closet and almost forgotten.

A gentle reminder from a co-worker the other day changed that! As soon as I finished my Brae Block, I went on the hunt for the quilt top kits I brought home a l-o-n-g time ago… November 2019 maybe?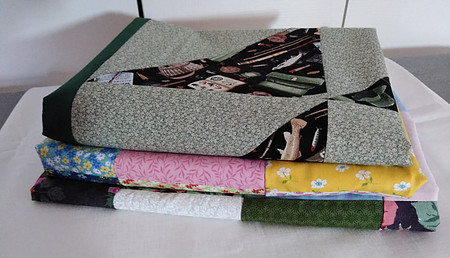 Piecing the tops takes th most time. Once that is finished, the next steps are to make the quilt sandwiches, turn, top stitch and tie off. These will make a nice addition to our slowly shrinking reserves!
What? More Quilts?
Nothing definitive yet however, it IS July and July is traditionally when I begin to think about Christmas. Christmas quilts, Christmas mug rugs, Christmas wall hangings, Christmas red work, Christmas cross stitch…
I just received this fat quarter bundle – Christmas Traditions by Dani Mogstad for Riley Blake Fabrics: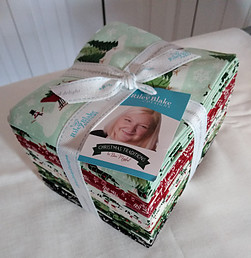 Just look at this! And what I'm showing is only a small sampling of all the fabric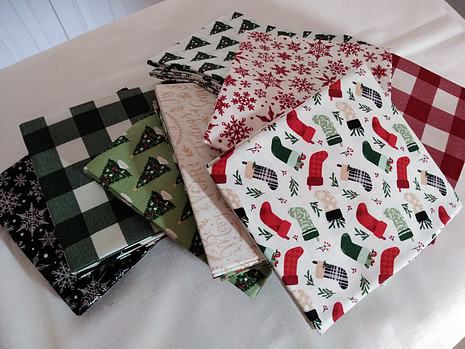 Maybe pair this fabric with Lori Holt's Comfy Christmas applique quilt pattern and templates. The link will take you to Lori's blog where all the information about this quilt is located. It may me possible that here fabric line designed for this quilt is also available!
While I'm on the subject of Christmas in July, this Christmas Traditions fabric line is so inspiring and I can easily

visualize a wall hanging, tote bag, table runner, place mats, mug rug, pillows… If I keep up this daydreaming I'll need to purchase another fat quarter (or half yard) bundle before they are all gone!
"Sew" many ideas and "sew" little time.
Which brings me to my next topic:

Applipops!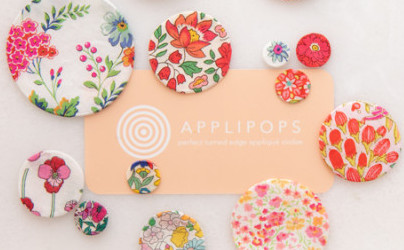 Yes, you're reading this right – no misspelling here. This is something I only discovered a couple of days ago and so wish I had discovered it at least 6 months ago.

I haven't used these yet but just the advertisement alone leads me to believe these would have saved me a LOT of time and frustration trying to get these little circles the right diameter AND perfectly round!
Looking at the design I can't help but shout "WHY DIDN'T I THINK OF THAT!!!!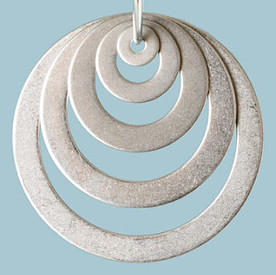 Concentric circles that nest together – one set makes 4 different sized perfectly round applique units. In addition to the Applipops all that is needed is a scrap of fabric and an iron!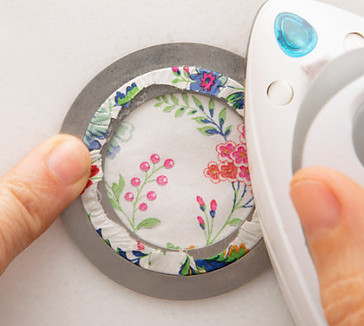 I hope you have enjoyed my musings from this past week and if any of you get the chance to try Applipops before I do please leave a comment and let us know your thoughts – and please feel free to upload a pic of your creation as well!
Stay Cool & Sew On!