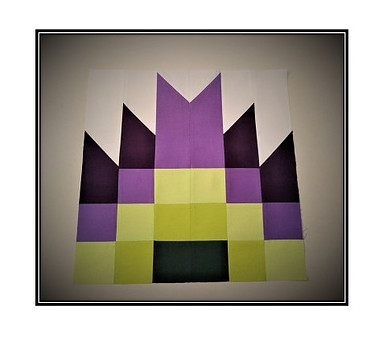 Who knew a big, bulky and (in my case, a clunky sounding) sewing machine attachment that goes by the name "Walking Foot" – also known as an "Even Feed Foot" could could do so much more than help you sew two pieces of fabric together!
St. Patrick's Day has arrived and I continue to merrily plug along piecing together the multitude of multi-colored blocks from the Adventure Quilt Quilt A Long…a Road Trip I discussed in my previous post.  Piecing the blocks together is so much fun – addictive actually.  I have to force myself to put it away and tend to other necessary tasks of daily life – cooking, laundry, sleep, going to work…
As much fun as I'm having, I do still suffer a set back or two.  This is typically the result of the only real issue I have with my sewing machine – the problem of uneven fabric feed over the feed dogs.  No matter how many tips and tricks I try ( and short of simply gluing the pieces together along the entire seam), it "seems" for every 4 seams I stitch that line up, the next will be a good 1/4″ off.
I was beginning to think the only reasonable solution was to buy a whole new machine.
It was only a few short months ago that I researched quilting machines and at that time I was strongly leaning toward this machine .  The primary reason – the feed-dog design that pretty much guarantees an even fabric feed.
When Juki redesigned this aspect of the machine it did so to allow both layers of fabric to be fed evenly preventing the all-too-common-reason many quilters have become too frustrated to continue this craft.  After all, when one layer of fabric is continuously pulled forward while the other lags behind and the reason has nothing to do with your skill but the less-than-optimal design of the machine, it's no wonder people are quick to give up piecing or quilting altogether.
Learning about this innovative feed-dog design, I was elated to realize that I was not alone – that there were enough of us quilters and sewists out there experiencing this same uneven-fabric-feed problem that an improved feed-dog design had to be developed.  However, my happy dance was quickly replaced with the reality that since I do not have that particular brand of machine, I will have to continue to "make-do" and resign myself to the fact that, at least for now, that achieving an even fabric feed on my machine will continue to be as much a fantasy as a source of frustration.
That is, until I made this discovery – or rather, the re-discovery of the "Walking Foot".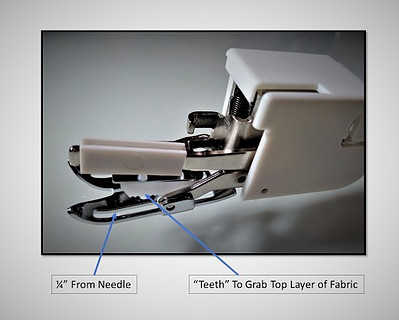 I say re-discovery as I m quite familiar with this accessory however, I have also been under the mis-guided impression that the walking foot is used only for "quilting".  It's design will allow several thicknesses of fabric to be smoothly evenly fed through the feed dogs.  Using an attachment like this would seem like overkill if used for ordinary sewing.
Well, it turns out this big, bulky-doesn't-look-like-it-belongs-on-a-domestic-sewing-machine accessory is THE solution for an even fabric feed for ALL sewing projects – regardless of the number of fabric layers!
I think it is now high time that the word gets out – the Walking Foot should no longer be reserved for "quilting" or sewing together several layers of thickness such as a quilt sandwich.
In fact, it  may become the only foot I'll ever use.  I say may – I still have a great love for both my satin stitch foot and 1/4″ seam foot  shown below.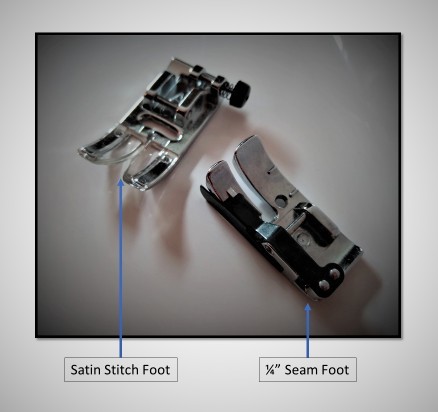 For me, the satin stitch foot works best when sewing fabric together to make half-square triangles (HST's).  I typically cut my fabric pieces a bit larger than required.  This gives me some "wiggle room" so if one fabric layer shifts in front of the other and the two layers are not evenly matched at the end of a seam it doesn't matter.  The square will be cut in half and later "squared" to the correct size anyway, so all I have to lose is a little bit of fabric.
Blocks #2, #3 and #4 of this Quilt A-Long (shown below) require piecing MANY squares and rectangles which also means nesting and matching up MANY seams.
The many trials and errors piecing Block #4 – The Great Divide resulted in the great union between my sewing machine and this miraculous accessory.   I would not be as far along in this project as I am were it not for the Walking / Even Feed Foot.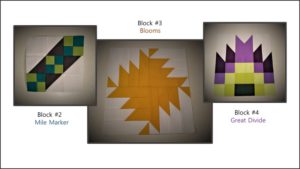 BWF – AWF

Before using my Walking Foot to piece these blocks,  my seam ripper was used as much as the sewing machine.
After using my Walking Foot, my seam ripper was used ONLY to help stabilize the fabric as it went through the feed dogs.
In Summary:
Using a Walking Foot Saves Time:  Eliminating the need to rip out seams faster then you can put them in and having to re-do multiple seams is a huge time saver.  There is nothing to be gained by doing the same task multiple times.  Quilting is a slow but steady progression from one step to the next – it is not a hamster wheel!
Using a Walking Foot Saves Money:  In my case, it has prevented me from making an expensive purchase that could be postponed until I have more information.
Using a Walking Foot Saves Your Sanity: When you  no longer sit and scratch your head wondering, "What?  How did that happen", while asking yourself "have I lost my mind?"  I know those pieces of fabric were lined up exactly before I began sewing…
The Result:
Time spent engaging in a thought process and dialogue that affirms your sanity and sense of well-being and allows you to persevere, block by block, until the last block is pieced!
Let me hear from you about your experiences using a Walking or Even-Feed Foot for your projects!  I'd also love to hear your solutions for achieving an even fabric feed on your machine if you don't use an even feed or walking foot.