What? Make a log cabin quilt block in just 10 easy steps? Why not? If you have been following along, in previous posts where I concentrated on the very basics of cutting and sewing fabric and discussed the benefits of using pre-cuts as a quick and easy way to learn how to piece together your first quilt top, then you are ready for this.
You have mastered the skills of cutting accurate fabric dimensions and sewing a consistent seam ( typically 1/4″ ) and in all likelihood you are tired of those cute 5″ squares and have begun to ask what other patterns or fabric cuts could I successfully attempt next?
I know this because I had the same question after making my 10th or 12th lap quilt using 5″ precut squares or charm packs.
Digging through my stash of fabrics and downloaded block patterns I came up with this one: a super simple, quick and easy log cabin. This is a classic design and a favorite of just about everyone – quilters and non-quilter's alike.
The distinct pattern is perfect for using scraps of fabric in contrasting colors – this is what makes the design pop and stand out from many other block designs. I also think it is the gradation in "log" sizes that gives the overall design movement – it visually carries your eye in a comfortable circular motion that adds to its visual appeal.
The images below show how the same fabric using the log cabin pattern pieces but sewn into two different configurations can give the appearance of two distinctly different blocks: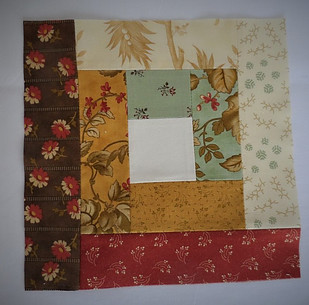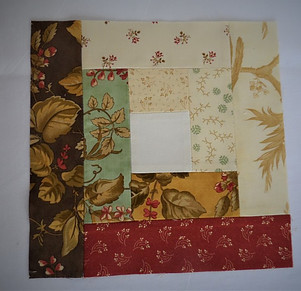 These are just two of probably 200 or more different variations!
Both log cabin blocks shown above were made from a jelly roll from the fabric line "Sweet Cherry Wine" by Blackbird Fabrics. As you can see, this fabric line utilizes a wide range of color contrasts and interesting prints. This particular pattern is from a hand drawn grid using (1) 2″ square and 8 strips with a beginning measurement of 2″ x 1″. Each strip is then cut 1″ longer than each previous (2×2, 2×3, 2×4 etc.).
If you need further proof of the versatility of the log cabin pattern take a look at the image below from Quilter's Digest: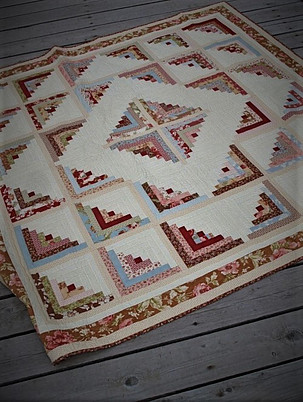 At first glance it looks incredibly complicated but one you break down the individual blocks and begin to see the pattern repeat, you then begin to think, "sure, I can do that!"
Now that you know a little more about the log cabin design let's dive in go through the process, step by step.
Take a look in your stash and see if you happen to have a jelly roll on hand. The 2 1/2″ wide by 40″ – 42″ cut lengths are the perfect pre-cut to use for a log cabin quilt top. And if the prints are too busy or the colors fall too close together on the color wheel you can always pair that fabric with a coordinating or contrasting solid.
For those of you making a log cabin for the first time I am going to use a different pattern than the one from my example above. It is a simpler pattern and appears to be a little easier to piece and sew.
What I have chosen to use is a free pattern download entitled "Valentine Heart Coaster" from Craftsy. It is designed by Allie Hartom of Allie – oops Designs – you can also visit her blog here. This is a super cute fabric coaster that incorporates both applique and log cabin piecing and measures 6″ square when finished.
This particular pattern is new to me so I'm going to sew this block together as I write up this tutorial. The pattern calls for a heart applique in the middle of the 3″ square but since it is almost fall I'm going to choose an apple, pumpkin or leaf applique instead.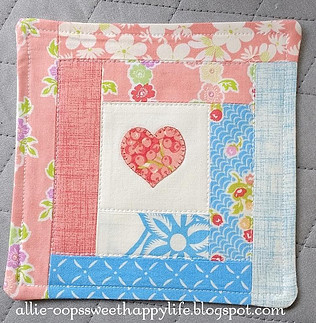 So Let's begin!
Step 1 – Choose fabric for both the log cabin strips and at least an 8″ square for the backing.
Step 2 – Choose applique design
Step 3 – Cut fabric into the following dimensions:
Square: 3″ x 3″
Strip #1 : 1 1/2″ x 3″ Strips #2 & #3: 1 1/2″ x 4″ Strips #4 & #5: 1 1/2″ x 5″
Strips # 6 & #7: 1 1/2″ x 6″ Strip #8: 1 1/2″ x 7″.
Step 4 – Applique design onto middle 3″ square
Step 5 – Sew the 1 1/2″ x 3″ strip to the bottom of the 3″ square (right sides together) then press the seam open.
Step 6 – Continue in a clock wise fashion attaching a strip (in the order given) then ironing the seam open, attach a strip, iron open etc., until all 8 strips are in place forming a square.
A diagram of the process and the numerical order in which each strip is attached is shown below: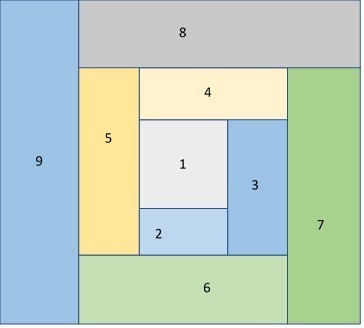 Step 7 – Cut an 8″ or so square of batting material and sandwich between the pieced top and backing making sure the wrong sides of the fabric are facing outward.
Step 8 – Stitch around the quilt sandwich leaving a 3″ or so opening then turn inside out. With the right sides of the fabric showing fold the edges of the opening inward and pin.
Step 9 – Top stitch around the entire square 1/4″ from the edge
Step 10 – Press and admire your handiwork!
Below is my block using the pattern by Allie-Oop: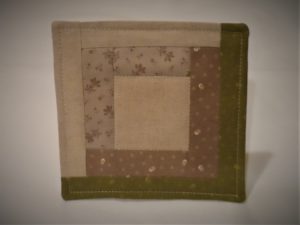 This is the front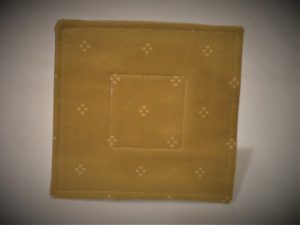 Here is the back
As discussed earlier, this pattern has so many possibilities. Fabric choices are endless but when the dimensions of the squares and fabric strips are cut a bit wider or longer the result is a block that is larger and a larger block has many other possibilities:
1) Mug Rug
2) Placemat
3) Mini quilt
4) Doll quilt
5) Pieced together with other large blocks to make a quick and easy full sized quilt.
Once you have finished your log cabin block leave a comment below and include a link where we can locate and admire your handiwork! Be sure and include if this was your first log cabin block as well!